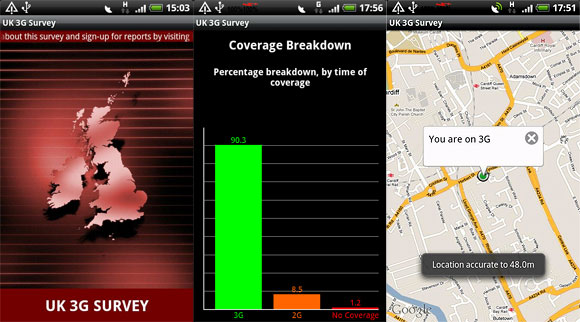 The BBC is to conduct a major survey to chart the availability of 3G and 2G services across the UK over the next month.
With no independent survey offering consumers about nationwide coverage, the BBC has teamed up with network analysis firm Epitiro to create an Android app to record street level coverage across Britain.
"Our coverage app will provide the information consumers need to see if 3G services are available and from which mobile operator. As mobile broadband is important to many of us, we hope people volunteer and make the project a success," said Gavin Johns, chief executive of Epitiro
Industry regulator Ofcom recognises that coverage is a priority, and estimates that in terms of land mass, 91% of the UK has 2G coverage and 76% has 3G coverage.
Ofcom will be conducting its own tests on the UK to reveal 'mobile notspots' –  areas of low or no service, with the research due to be published later this year. The regulator explained:
More information on coverage is required, and this should be in a standardised format enabling comparison between operator services such that users can make an informed decision about coverage in their area.

Whilst postcode-based checkers go some way to this, their accuracy is limited to the point at which they have limited value.
Android only
The app is currently only available on the Android platform, withthe BBC explaining how users can become part of the project:
You will need an Android handset
Download the app below or from Android Marketplace
Once downloaded, data will be collected without you having to do anything more
If you wish to see what coverage is like in a particular place, simply click on the app
The app is free to download
It uses very little bandwidth
The data is anonymised and neither Epitiro nor the BBC will collate or store any personal data
[Via] – [Download the app here]