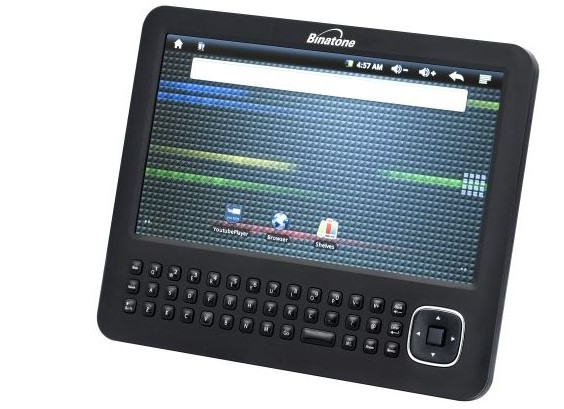 Binatone – a budget brand best known for their generally uninspiring discount electronics – have had a sudden spurt of originality and thrust the rather unconventional ReadMe Daily Android tablet on to the masses.
The not-unattractive tablet rocks a full QWERY keyboard under the unit's 7 inch, 800 x 400 pixel display, giving it the look of a Kindle that's been shunted through a mangle.
Unusually, the display is not of the touchscreen variety, so all navigation has to be done via the directional pad which sits to the right of the keypad.
Aimed at the eBook reading market, the device runs the relatively elderly Google Android 2.1 OS, but should be able to run thousands of apps, just so long as they can be controlled by that potentially irksome four-way controller.
The thing ships with a web browser, email client, and media player, and Binatone say that their budget offering can serve up 6 hours of reading time on a charge, and will be priced at £129 in the UK (approx $212 US).
[Via]