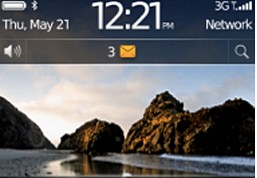 An assemblage of screenshots and details about RIM's upcoming Blackberry OS 6.0 platform and photos of the forthcoming BlackBerry 9670 clamshell handset have been leaked by tech site, The Boy Genius.
The new operating system sees the browser enjoying a long overdue revamp, and now sports grown-up features like tab switching, new favourites, and multi-touch.
An updated media player lets you browse album art work and tap on a cover to start the music (a la iPhone).
Rubberbanding
System-wide kinetic scrolling with 'rubberbanding' and pinch to zoom has been added to give things a bit more of an interactive zing when you're zipping through long lists, address books, web pages, emails, and the like.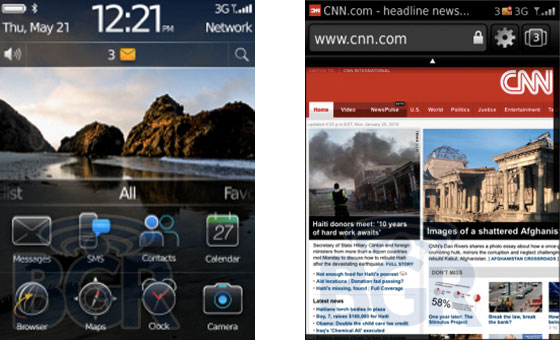 The email inbox has been dragged into 2010 with larger thumbnails to designate message type (Facebook, Twitter, etc.), while the home screen is now customisable with pages, letting you browse your beefy collection of apps by flicking this way and that way.
For touchscreen Blackberry handsets, there's new  'modal popups with gestures' feature.
We thought this was some kind of funky yoga move until BGR explained it all:
If you tap and hold (obviously a touchscreen device is required), you'll get a 9 icon group centered on the screen which is basically a pretty context menu. For instance, you could be composing an email, and instead of pressing Menu + Send, you could tap and hold on the email, see the popup window, and hit the send icon there.

Another use would be when emailing photos or videos from your device, just tap and hold on an item there, see the popup, and then just send the item. That way you don't have to deal with going through the normal menu options which has gotten convoluted with all the various social services/networks available.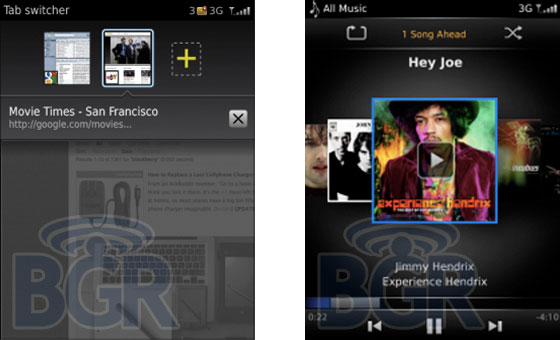 The photos app also now operates much the same as the iPhone's, with tiled thumbnail views and pinch to zoom (in case you're wondering, RIM's interface designers haven't overlaid the BGR logo as some kind of new-look co-branding deal – it's just the website stamping their name on the screengrabs).
According to BGR, the shiny new OS 6.0 should come shuffling into view around June/July, so BlackBerry users fed up with the current near-prehistoric looking interface should be in for a treat (although we're not sure what upgrade options, if any, will be offered to existing users).
BlackBerry 9670 handset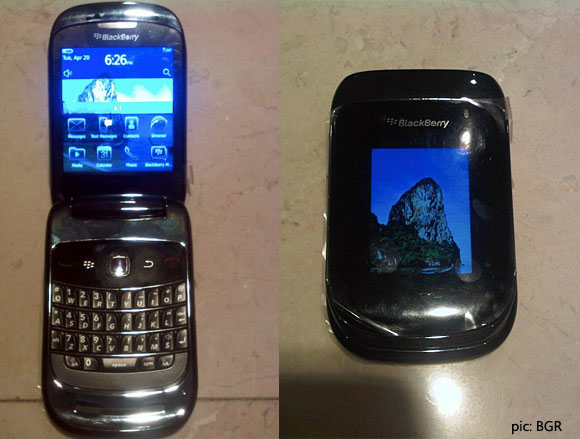 Also unveiled by BGR is this reet ugly looking thing, which is apparently the new BlackBerry 9670 handset.
Sporting a QWERTY keyboard, 5 megapixel camera, Wi-Fi, a 360×480 internal display, large external display and trackpad, and running the new OS 6.0, the flipping phone also packs a microUSB port, microSD internal storage slot and Bluetooth.
We're hoping that this is a pre-pre production model, because it's really not easy on the eye (although we understand that Americans have a bit of a thing about clamshell phones – and almost all of the ones we've seen are ugly beasts too. Clamshell phones, that is. Not Americans).
[BGR]