Plaid Cymru candidate Colin Elsbury, the former mayor of Caerphilly, south Wales has become the first Brit to lose a libel case based on a Twitter entry.
Oops
Elsbury was sued after Tweeting ahead of a council election that his independent rival Eddie Talbot had been "forcibly removed" from a polling station by police – before realising that he'd got his facts wrong and it was in fact a case of mistaken identity.
Realising his cock up, Elsbury later tried to amend the tweet but, alas, it was too late.
£53,000 of Tweeting hurt
Talbot took Elsbury to court in Cardiff where a judge slapped him down with a hefty £3,000 fine and an order to pay costs of around £50,000. And just to rub his face in it, the judge made him apologise publicly to Talbot on his Twitter feed.
"This was a genuine case of mistaken identity which I have acknowledged," commented a rueful Elsbury, adding, "This case will no doubt act as a warning to people, including politicians, to be extremely careful when using Twitter and other social media such as blogs."
Twibels ahoy
In the States, there's already an active culture of suing over Twitter libels – apparently they regale under the daft name of  as "Twibels" – and this case has established that anyone posting up inaccurate claims – even if they're later corrected in a subsequent posting – could become a cropper.
Taking a look at some of Elsbury's recent Tweets we're not sure he's cut out for social media, to be honest: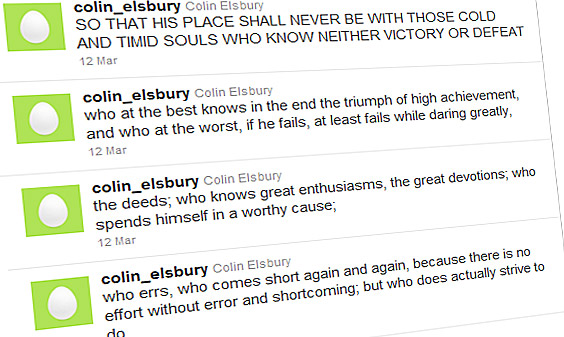 [Via]