Compatible with a ton of photo editing apps, the free virtualPhotographer tool is a terrifically versatile Photoshop plug-in filter, packing no less than 200 one-click preset effects.
Now up to v1.5.6, the Windows app lets you snappily apply high quality photographic styles to your digital images, with loads of options to let you get experimental with your digital photos.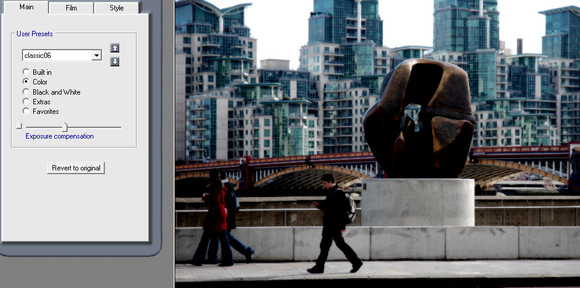 Handy presets include polarise, infrared, cross process, film grain, B/W conversion, soft focus and high contrast, and although some border of gimmicky, there's some genuinely useful filters in there that would otherwise take hours of fiddling about with in Photoshop.
Easy to use
The program is dead simple to use: simply install it into the filters folder of your image editing app, and then it will appear in the 'filters' menu.
Selecting virtualPhotographer from the list brings up a straightforward, resizeable interface, with a tabbed menu letting you scroll through presets, adjust film type or select a photographic style.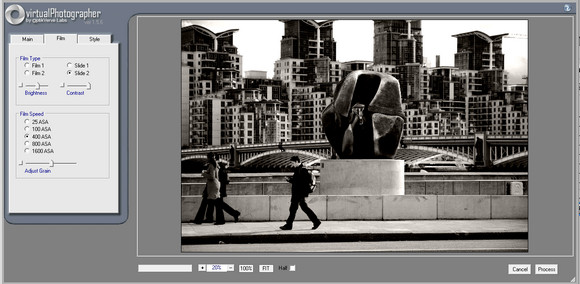 A split screen can be used so you can see both the original and the filtered images side by side, and once you're happy with the result, you just have to press 'process' for the effect to be applied. There's also a batch mode and the ability to save favourite filters in an effects folder.
Some of the effects are surprisingly effective – this view below was actually taken in bright sunlight against a clear blue sky, with the 'Anvil' filter doing some very clever stuff indeed:

(More: urban75 blog)
Old school looks
It has to be said that the interface is rather dated in looks – with its grey windows and old-school radio buttons it's decidedly more Amiga 3.1 than Windows 7, but it seems rude to quibble when you're getting all this great functionality for nowt.
The program is compatible with programs like Photoshop CS4 and older (32 bit), Photoshop Elements, Paint Shop Pro and more and is available for free download here. Recommended.
Ratings:
Ease of use: 


Features: 


Image quality: 


Overall: