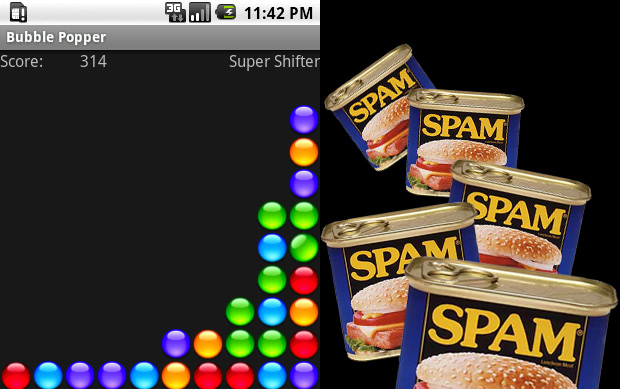 One of our favourite games on Android is the simple but devilishly addictive Bubble Popper.
Based on the well known game Bubble Breaker, the game involves clicking on connected bubbles of the same colour to earn points. The more balloons you manage to pop in one go, the more points you earn.
Simple but compelling
And that's about it, but its simplicity means that you find yourself going back for more games and trying to beat your high score – or at least better your average.  It's a fantastic time waster.
The developers – who have made no meaningful improvements to the game for years – have opted for an advert supported model and that's fair enough: after all, it's only right that their hard work should be rewarded.
However, in their quest to leverage more and more money from this game, they seem to be on a mission to find out just how many adverts they can inflict on users.
So as well as the usual animated banner advert at the bottom of the page, it's not unusual to have fake Android alerts pop up at the end of the game trying to send you off to some site or another. Here's some examples: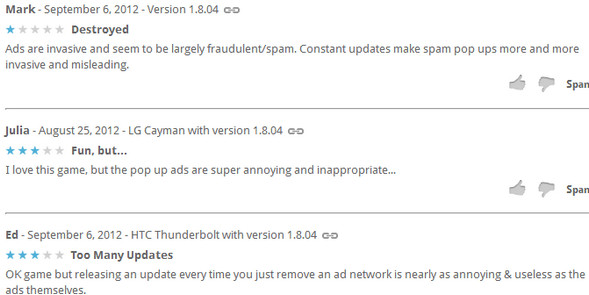 Other times, you can have expect to have a full-page advert pop up and cover the entire screen, but there's often far worse in store.
Folks hoping to perhaps have a quiet game in a doctor's waiting room can find themselves embarrassed as a full screen video advert blares out mid-game without warning.
There's no means to turn off the loud video adverts – some of which can run for what seems like an eternity – and users on limited bandwidth deals may find themselves being penalised by their networks.
The only way to stop the racket is to quit the app, but when you start it back up again, the rest of the video ad will be waiting for you.
It wouldn't be quite as bad if the adverts were consistent but the developers keep on foisting endless app updates on users, inevitably after they have discovered another way to squeeze yet more money from extra advertising.
Please stop
Frustrated users giving in feedback on Google Play have begged the developers  to stop the relentless onslaught of adverts to no avail. Others have pleaded for them to release a paid version so they can avoid the disruptive advertising, but the in-game spam-a-thon continues.
We wrote to them a while ago to voice our concerns. They didn't reply. The bastards.
[ Bubble Popper on Google Play]