If you prefer your interfaces to be of the hugely lavish, eye-candy-laden, extremely interactive kind, then feast your eyes on the preview of the new BumpTop 'desktop workspace' for Windows 7.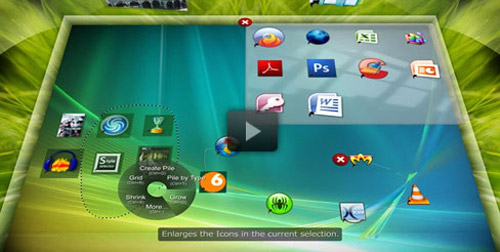 The program's stunning interactive interface looks like you've stepped into Dan Dare's world, with multi-touch gestures to pan and zoom around images, change views, create 'piles' of files and then flip them out like a pack of cards.
BumpTop also offers some clever photo management features, with some nifty multi-touch cropping and editing, with instant updates to Facebook.
We're not entirely sure if we'd ever use it, but it sure looks incredible to our eyes and perhaps points the way to how future interfaces may work.
After all, no one expects the Ye Olde Pointy And Clicky Mouse paradigm to be around forever, do they?
Here's a listing of the multi-touch gestures, followed by some promo videos.