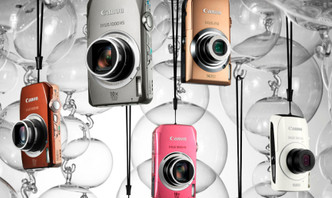 Canon has decided to celebrate the 10th anniversary of its Ixus range in style, with the launch of the Ixus 1000 HS compact camera.
Not only is their new pocket snapper a rather splendid looking affair, available in hues of silver, brown and pink, but it's the first Ixus to pack a 10x optical zoom and be able to shoot 1080p video.
None more slim
Canon also reckon it's the slimmest super-zoom camera of its kind to be found anywhere in the known universe, and who are we to argue?
Like an eagle on crack
It may be a wee little thing, but canny Canon have still managed to wedge in a 10 MP CMOS sensor backed by a Canon DIGIC 4 processor and a 3-inch PureColor II G LCD 16:9 widescreen screen, with the built-in optical Image Stabiliser doing its damnedest to keep images pin sharp.
Sensitivity soars like an eagle on crack, rocketing up to an almost unfeasibly high 3200 ISO at full resolution, while an extended maximum speed of ISO 6400 is available at 2.5MP resolution.
Call us cynical, but we suspect that there may be just the odd speck of noise in images shot at those heady ISO heights.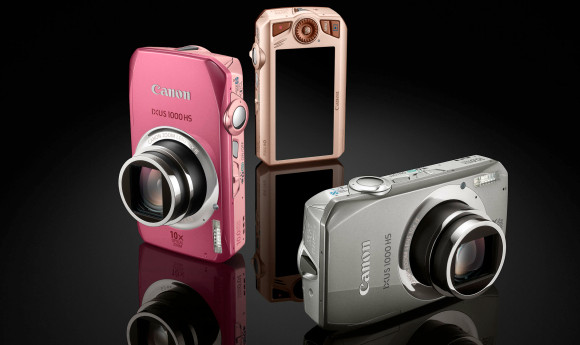 Nippy shooting
When it comes to grabbing fast moving chaps, the Canon gets out of bed pretty damn quick,  rattling off up to  3.7 shots per second in continuous shooting mode at full 10.0MP resolution.
Lowering the resolution to a mere 2.5MP brings forth express train capture speeds, with the diminutive Daguerre device bagging a startling 8.8 shots per second in High-speed Burst mode.
A nifty Best Image Selection too lets the camera choose the best image from a selection of five of the shots.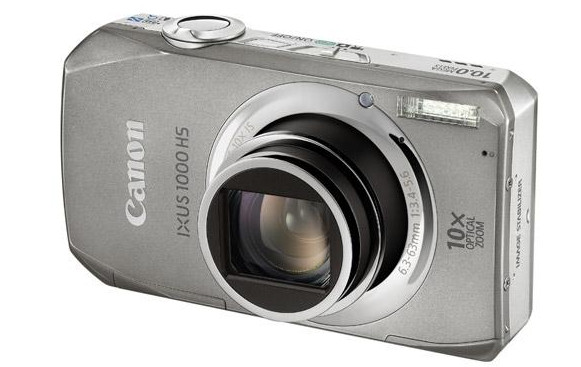 Slower than a slug on ketamine
A Super Slow Motion Movie mode lets you admire the wonder of slow motion movement, with the Ixus capturing scenes at an astonishing 240 frames per second (fps). With the footage played back at 30fps, you'll be able to regale in the minutiae of movement, with scenes unfurling slower than a dull art house movie.
Less spectacular video footage can be recorded at full HD  (1080p) resolution at 24 frames per second.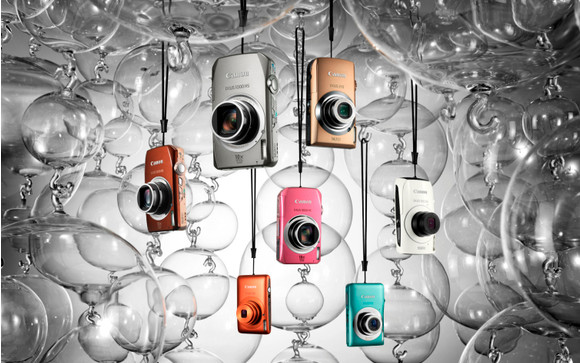 More scenes than a 20 act play
Naturally, there's a veritable flotilla of auto settings and scene modes onboard to help you capture every conceivable event, with Smart Auto with Scene Detection Technology automatically selecting from 28 scene modes, backed by Smart Flash Exposure which sets the flash levels according to shooting conditions.

Slightly quirkier shooting modes include Wink Self-Timer which captures a shot 2 seconds after a wink is detected,  and the rather tiresome Fish-eye and Miniature Effects, as seen all over the web at the moment.
Available from September, Canon's shiny new Ixus is priced at £349 including VAT.
IXUS 1000 HS – key features:
– 10x optical zoom with IS
– Compact, stylish metal body
– HS System with 10.0 MP CMOS
– Full HD movies. Dynamic IS
– 7.6 cm (3.0″) PureColor II G LCD
– Super Slow Motion Movie
– Smart Auto and Smart FE
– Shooting modes. Best Image Selection
– Wink Self-Timer
– Hints & Tips
[Canon Ixus page] – [Via]