Posting on the official Facebook blog,  Michael Sharon, Facebook product manager has added more detail to their new Places functionality, enthusiastically introducing it as a feature that lets you tell your friends about new places and inform them where you are.
Here's Mr Sharon whipping up the Big Sell:
Ever gone to a show, only to find out afterward that your friends were there too? With Places, you can discover moments when you and your friends are at… the same place at the same time.

You have the option to share your location by "checking in" to that place and letting friends know where you are. You can easily see if any of your friends have also chosen to check in nearby.
At the moment, only iPhone users get all the Places bells'n'whistles built into their app, while other mobile users have to access it via the touch.facebook.com website (and it'll only work then if your mobile browser supports HTML 5 and geolocation).
Checking in
Once you've got Facebook fired up, you can hit the "Check In" button to see a list of places near you, and once you've selected the venue you're at, your check-in will create a story in your friends' News Feeds and show up in the Recent Activity section on the page for that place.
When checking in, you can also tag friends who are with you – like  you might tag a friend in a status update or photo – and you also can post an update along with your check-in to tell folks what you're up to (e.g. I'm going to the boozer to get smashed").
The "People Here Now" section lets you see who's already checked in with you at that place, although this is only visible for a limited amount of time and only to people who are checked in there.
The idea is that you can find people who share your interests and see who's out on the town near you, although there's the option to uncheck the "Include me in 'People Here Now' after I check in" settings in privacy control.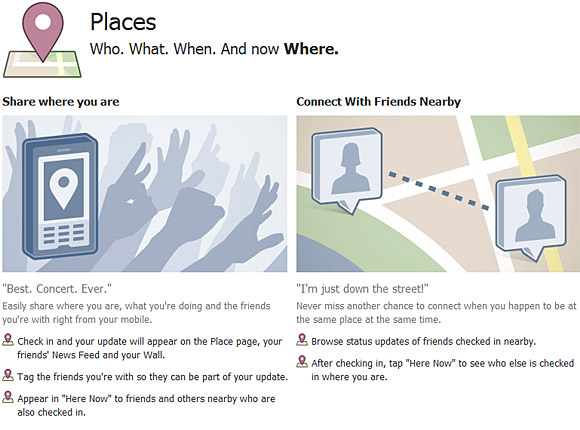 Privacy
Various settings let you control what you share and the people you share with, so it's up to you to share your location when you check in at a place and you can only tag friends with you but only if their settings allow it.
If you are tagged, you will be notified via the app, and you'll be able to stop that person tagging you again, if you so desire. You can also remove check in tags, much like you might remove a photo tag of yourself in Facebook (and we've certainly done enough of that in the past).
Unless you've elected to broadcast your whereabouts to the entire world (and local burglars, natch), only your friends can see where you visit or if you're tagged at a place.
At times, reading Facebook's blog makes the procedure sound fairly complicated:
When your friends check you in, it is as if you have checked in at that place yourself. You also will appear checked-in to your friends. If you do not allow friends to check you in, then when they tag you at a place, your name will appear in the same way it appears in a tagged status update. You will not appear checked-in at that place.
Places is only available in the United States right now, but Facebook say that they'll be making it available to more countries and on additional mobile platforms soon.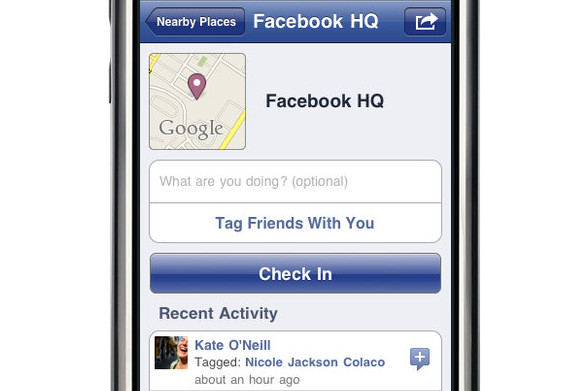 Hmmm
We still remain unconvinced about this whole location checking in malarkey.
We can see it has huge potential and might be useful in certain circumstances (e.g. on holiday when you're trying to find which pub your mates have fallen into), but we've never felt any overwhelming urge to constantly get out our phones and check in all over the place.
Mind you. we expect teens will love it.
[Facebook Places] – [Facebook blog]
Want to get the hell out?
If the idea of people knowing where you are fills you with dread or you think the PleaseRobMe site has a point, here's how to disable the services, courtesy of a handy guide posted at Lifehacker: