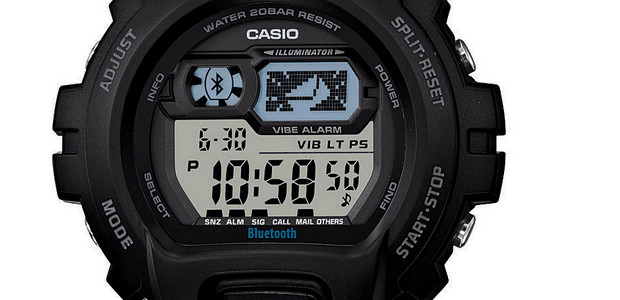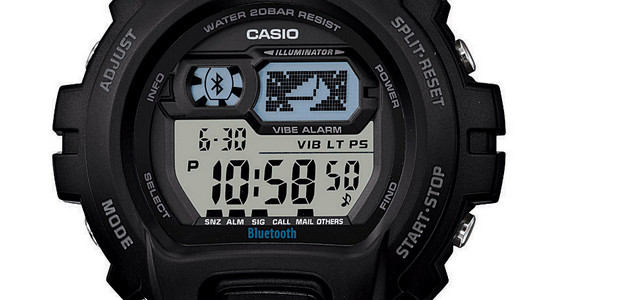 Digital watch titans Casio have announced the release of their new G-SHOCK  GB-6900B/X6900B shock-resistant watches which let owners of selected smartphones control their music playback via the wonders of Bluetooth v4.0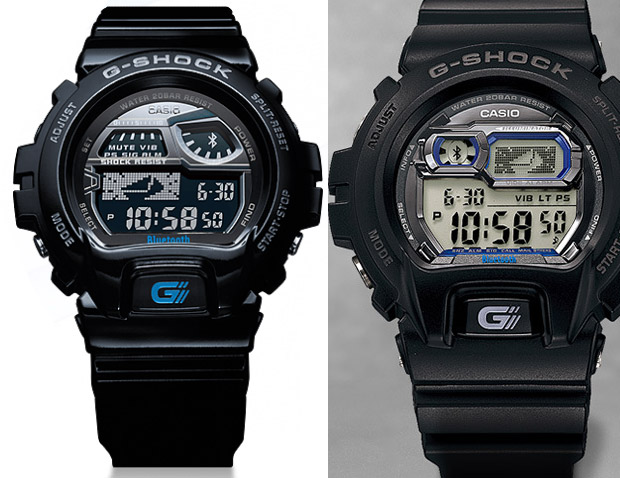 Both watches come with a second-generation engine, which – as Casio assures us – manages to ensure a stable connection and enable remote two-way operability with a smartphone.
Casio explains that this richer, two-way operability means that a 'button on the watch can be used to operate smartphone applications, and a paired smartphone can be used to set features on the watch, such as the timer and alarm' – as well as get notifications for incoming calls and emails etc.
Here's the full breakdown of watch notifications:
Incoming Call Alert
Incoming e-mail Alert
SNS New Message Alert
Calendar event notification
Phone Finder
Link Loss Alert
Reminder Alert (iPhone only)
Tap to mute Incoming Call Alert (Android only)
Incoming SMS Alert (Android only)
To get all these funky features going, chunky watch wearers will need to download the G-SHOCK+ application, which is available for download from the App Store for iPhone or Google Play for GALAXY S4.
The GB-6900B is based on Casio's G-SHOCK DW-6900 timepiece and measures up at 53.2×50.0×18.7mm, while the beefier GB-X6900B 957.5×53.9×20.4mm) expands on that theme to form a bigger, tougher package.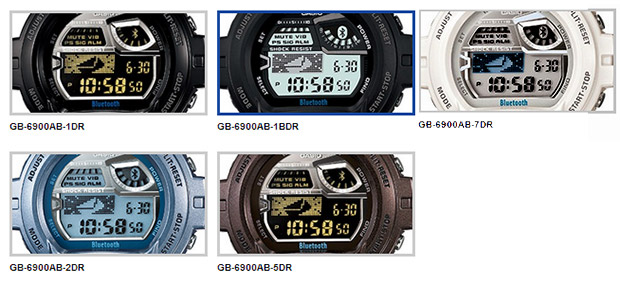 The GB-6900B comes in four colour choices; Black, Black and Blue, Green, and White, with the GB-X6900B only available in n Black, Blue, and Orange.
Currently, the watches only work with iPhone 5 (iOS 6.0 – 6.1), iPhone 4S (iOS 5.1.1 – 6.1) and the Samsung Galaxy S4.
Specifications
Construction

Shock-resistant

Water Resistance

200 meters

Communication
Specifications

Communication
Standard

Bluetooth® v4.0

Signal Range

Up to 2m (may differ depending on surrounding conditions)

Watch
Functions

World Time

100 cities (35 time zones, daylight saving on/off) and Coordinated Universal Time (UTC)

Alarm

5 daily alarms or one-time alarms (with 1 snooze alarm), hourly time signal

Stopwatch

1/100-second; measuring capacity:999:59'59.99″;
elapsed time, split time, 1st and 2nd place time

Countdown
Timer

Setting accuracy: 1 second; 100-hour maximum per set; unit of measure: 1/10-second

Light

LED backlight (super illuminator and afterglow); auto light switch; selectable illumination duration: 1.5 or 3.0 seconds

Other Features

Mobile link; vibe alert; tap function; full auto-calendar, 12/24-hour format; button operation tone on/off; low battery warning; power-saving function*

* Mobile Link turns off automatically after a fixed amount of time to save power

Accuracy at Normal Temperature

±15 seconds per month

Approx. Battery Life

Approx. 2 years on CR2032*

* Mobile link used 12 hours per day

Size of Case

GB-6900B: 53.2×50.0×18.7mm
GB-X6900B: 57.5×53.9×20.4mm

Total Weight

GB-6900B-1B/GB-6900B-3/GB-6900B-7: Approx. 65g
GB-6900B-1: Approx. 70g
GB-X6900B: Approx. 82g