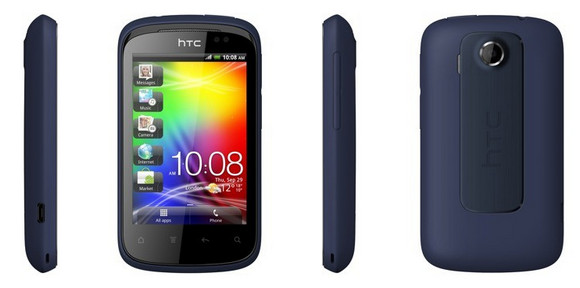 The price of smartphone ownership looks set to continuing tumbling with the announcement of the new, Android-powered budget HTC Explorer handset.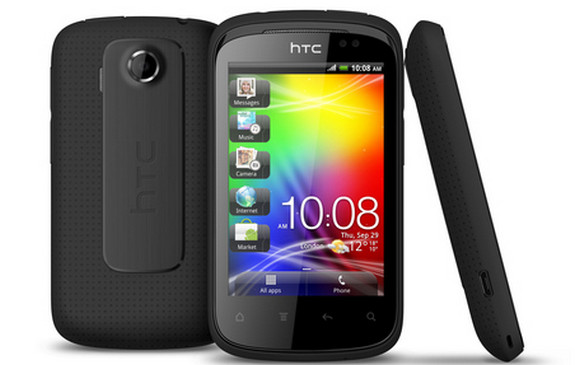 Packing HTC's rather swishy Sense 3.5 interface, the bargain basement handset comes with suitably cut-back specs, with a lowly 600MHz processor beating rather feebly inside.
There's a diminutive 3.2-inch HVGA touchscreen on the front, while a rubberised back should reduce the chances of the thing tumbling down the toilet pan when taking a call mid-'session'.
Running Android Android 2.3.5 , users can forget about any fancy 3D scrolling effects or accessing HTC's video rental service, but with a 3MP rear-facing camera onboard, this modest handset should be more than ample for undemanding users.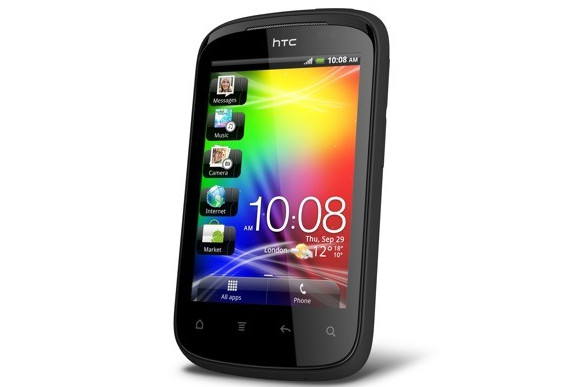 There's a UK release date set for some time in Q4 quarter – Three have confirmed they're onboard – and the handset will be available in  Metallic Black, Active Black and Metallic Navy options, with groovy Metallic Blue, Metallic Orange, Metallic White and Metallic Purple accessory back covers.
UK pricing is yet to be revealed, but it's sure to be on the budget side of things. We think it looks rather natty actually.
Videos galore!
Here's the press release:
HTC UNVEILS HTC EXPLORER™ – CONTINUES TO
EXPAND THE GLOBAL MARKET FOR AFFORDABLE SMARTPHONES

HTC Explorer delivers an affordable smartphone with HTC Sense and distinct design

NEW DELHI, INDIA – September 29, 2011 – HTC Corporation, a global leader in mobile innovation and design, today unveiled HTC Explorer, its most affordable smartphone and the latest addition to its global portfolio of devices. HTC Explorer brings an advanced smartphone experience to first time smartphone customers. With a curved and compact design, a 3.2″ HVGA touchscreen and 3MP camera, HTC Explorer offers smartphone performance in an attractive and affordable phone.

"HTC Explorer is an easy-to-use smartphone that puts the customer in control, providing quick access to their most important content and information," said Jason Mackenzie, president of global sales and marketing, HTC Corporation. "HTC Explorer is simply a smarter phone for anyone and it represents another clear demonstration of HTC's global commitment to expanding the market for advanced smartphones."

HTC Sense
With HTC Sense™ integrated, customers experience sharp graphics, vibrant animations, a wide variety of widgets and a cinematic and immersive weather experience. HTC Explorer also includes a customizable lock screen that functions as a real-time window to the customer's most important information and content, such as social updates, photos, weather or stock updates that are viewed by simply waking up the display. The lock screen also enables quick access to the camera for capturing those important moments. It also includes a new Smart Dialer that displays a one-touch menu for quick, easy dialing of contacts.

Stay connected with family and friends
Track social updates from colleagues, friends and family with the People widget that displays social updates in a single easy-to-view thread. You can also easily send a photo, video clip or location in a message with just one touch.

Fast Intuitive Web Browsing
HTC Explorer provides a complete web browsing experience with Adobe® Flash® support, and is the first in its class with a HVGA display, allowing you to run nearly all of the applications in Android Market. Smart URL prediction provides quick access to the top 100 websites, while automatic URL correction streamlines web navigation. Users can make restaurant reservations or connect to customer service hotlines just by tapping the phone numbers listed on any website. And if you've forgotten to print out the map of your destination, simply tap on the address to bring up a real-time map and its location.

Take control of your life
The HTC Explorer allows you to access multiple work and personal email accounts and combine different calendars into a single view. Appointments from each calendar are displayed in different colours to deliver a clearer picture of your busy day. New calendar invites are also managed from one tab allowing you determine the best use of your time. HTC Explorer offers you control over your data and mobile services with a usage monitor that tracks your call minutes, messages and data to keep you on top of your spending.

Availability
The HTC Explorer will be available across key markets in EMEA and Asia from Q4 2011 in Metallic Black, Active Black and Metallic Navy. Customers will be also able to customize their HTC Explorer with a range of optional back covers including Metallic Blue, Metallic Orange, Metallic White and Metallic Purple.
[Via]