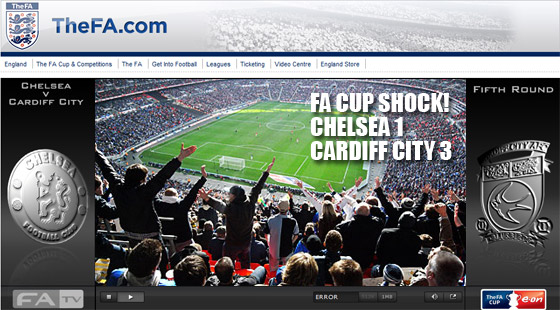 The FA has announced that it will be streaming Saturday's FA Cup clash between big spending, cash-loaded, posh Premiership millionaires Chelsea against the heroic – nay beautiful – injury-plagued, Welsh battlers Cardiff City.
Although seven FA Cup matches have already been streamed live through the FAtv website, tomorrow's transmission will be the first one to feature one of the so-called 'Big Four' teams.
Speaking about the upcoming match, FA chief executive Ian Watmore was bigging up the technology: "This is another important step in the delivery of FAtv as a premium streaming service, and we fully expect this weekend's webcast to be one of the single most viewed football matches on the internet."
The Chelsea match will be streamed for free, with presenter Jim Rosenthal on the mic. The pre-match build-up waffle will start at 11.40am with the action kicking off at noon.
Don't expect any updates from us though as we'll be at the game, equally filled with blind optimism and beer, cheering on the mighty Cardiff City and willing them to an unlikely victory.
In the meantime, you can see a mock up above of what we expect the FA site to look like around 2pm on Saturday.
Go to www.thefa.com/fatv for more details or check out our Cardiff City pages or read our Bluebird Jones football comic.