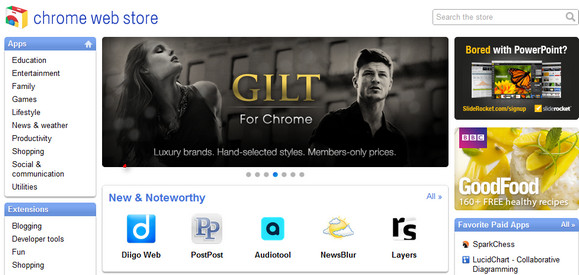 It became our de facto browser after Firefox crashed one time too often, and now Google's Chrome browser has hit the giddy heights of version 9.
Store is open
The update offers access to the Chrome Web Store (which acts much like the recently launched Android Market store) and lets users download free and paid apps direct from their browser.
Google seem to be pretty casual about the launch of Chrome 9 – there's still been no official announcement past a low key blog post – and the numbering seems pretty random too, but we're rather enjoying rummaging round the store.
Here's what they say:
Today, we're excited to bring several new features from Chrome's beta channel to the stable build, including WebGL, Chrome Instant, and the Chrome Web Store.

WebGL is a new technology which brings hardware-accelerated 3D graphics to the browser. With WebGL in Chrome, you can experience rich 3D experiences right inside the browser with no need for additional software. Curious about the three-dimensional possibilities? Try out these demos to experience the power of WebGL in the latest stable version of Chrome.

With Chrome Instant (à la Google Instant), web pages that you frequently visit will begin loading as soon as you start typing the URL. ("Look, Mom – no enter key!"). If supported by your default search engine, search results appear instantly as you type queries in the omnibox. To try out Instant, you'll need to enable it in the Basics tab of Chrome's options.

Lastly, the Chrome Web Store is now open to all Chrome users in the United States. As part of this, we've now added a link to the Chrome Web Store on the New Tab page, along with two sample apps. (If you don't use these sample apps, they will automatically disappear after some time).

Some of the newest additions in the Chrome Web Store include BBC GoodFood, Autodesk,Sesame Street, nine King.com Games and Marvel Comics. There are also many apps that take advantage of the latest web technologies to deliver an immersive experience, such as Tweetdeckand The New York Times. While the store is currently only available for Chrome users in the U.S., we're working hard to expand availability to users around the world soon, so stay tuned!
[Google]