When you're in the market for a new camera, the size of the thing can be an important factor – especially if you're looking for something that is truly pocketable.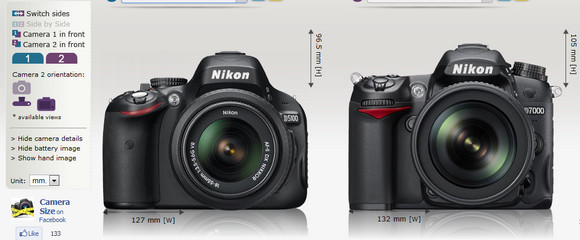 Unless you can get to a camera shop, it can be hard to get the feel for how big various models are, so it's usually a case of trawling through a slew of different websites and mulling over loads of dimensions. Which is, frankly, a bit boring.
Thankfully, the excellent camerasize.com website makes the process much easier by letting you choose from a wide range of popular cameras and compare them side by side from several angles.
Camera models are selected from a drop down menu, with the results shown as a visual comparison, along with stats showing the key differences in size, e.g.
Panasonic Lumix DMC-LX5 is 9% (10.2 mm) narrower and 2% (1.4 mm) shorter than Sony NEX-7.
Panasonic Lumix DMC-LX5 is 0% (0.2 mm) thicker than Sony NEX-7.
Panasonic Lumix DMC-LX5 [271 g] weights 7% (20 grams) less than Sony NEX-7 [291 g] (*inc. batteries and memory card).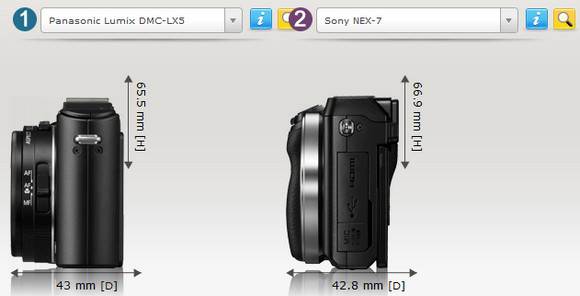 Cameras can be shuffled in front of each other for more precise comparisons, and with four different views available, you can get a real feel for how big each camera is. It's almost as good as being in the camera shop!