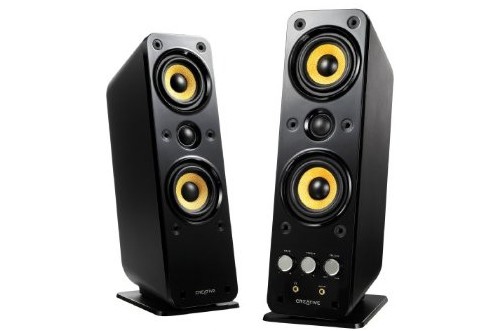 Looking like they mean business in their sparkly piano black finish and rounded corners, the Creative Gigaworks T40 Series II speaker system is aimed at music lovers and multimedia fans who don't mind splashing out a bit of dosh for a decent sound.
Tall and slender at a foot high, the desktop speakers boast a pair of woven glass-fibre cones with a soft dome tweeter in the centre, protected by a removable gauze cover (although they look a lot meaner with the speakers exposed).
According to Creative, the GigaWorks T40's built-in amplifier pumps out 16 watts per channel, courtesy of the two midrange drivers each measuring 2.5 inches in diameter and a wee once inch wide tweeter.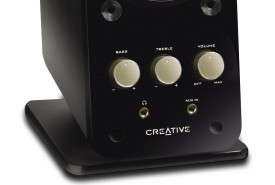 Controls
As is the custom for desktop speakers, a 'master' unit carries the sound controls and connections, with the T40 coming with proper rotary volume , bass, and treble controls, which are always preferable to up/down buttons which give you no idea of what levels have been set.
The fiddly power on/off switch which lurked on the back of the original T40s has now been replaced by a combined volume and power knob which glows blue (again, an improvement on the original dazzling blue LED).
There's also a headphone socket which cuts out the sound to the speakers when you plug in your cans and a handy 'aux in' socket.
At the back of the master speaker, there's a power-in socket, 3.5mm jack for hooking up a PC or portable player, a socket for the Creative Docking Station X-30 for iPods and a gold plated socket for linking up the second speaker.
The package also comes with a 2-metre stereo audio cable and a gold plated twin-RCA to stereo 3.5mm jack for hooking up a TV or DVD player to the GigaWorks T40.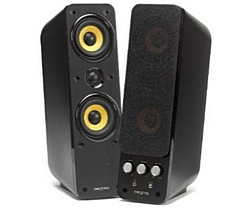 Sound quality
We were pleasantly surprised by the sound of the GigaWorks T40, which pumped out clear and crisp treble and mid range backed by a surprisingly solid bottom end (although you're never going to get house rattling bass out of units this small).
Cranking the system up, the speakers kept a firm grip on the music without sounding shrill or over-worked, serving up good stereo imaging and an overall pleasant 'smoothness' to the sound.
We were impressed with the sound and would rate the T40s as some of the best speakers available at the price.
Verdict
Although the bass response is always going to be compromised in such a relatively small package, the simplicity and lack of cabling makes these speakers an ideal choice for small to mid-size rooms.
The unusually tall design may not appeal to all tastes, but we liked the no-nonsense lines and and simple rotary controls, backed by a great sopund.
Priced around £85 we'd say the Creative Gigaworks T40 speakers represent excellent value for money for anyone in the market for great sounding desktop speakers.
Technical Specifications
Speaker power: 16 Watts RMS per channel (2 channels)
Frequency response: 50Hz ~ 20kHz
Dimensions (WxLXH) 8.8cm x 14.3cm x 31.3cm
Package Contents
Two speakers
Stereo-to-stereo audio cable (2m)
Dual RCA-to-stereo adapter (TV adapter)
Power supply adapter