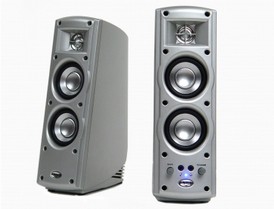 Looking like they should be orbiting some distant planet are the new Klipsch ProMedia Ultra 2.0 desktop speakers.
Sporting an industrial, sci-fi design more likely to appeal to Billy Bloke and his gang of geezers, each magnetically-shielded satellite speaker hosts dual 2.5in fibre-composite cone drivers and a 1in metallised polymer tweeter, powered by a 15w power amplifier.
A suitably space age-sounding MicroTractrix Horn is coupled to the tweeter to boost clarity and power efficiency, while the 'long-throw woofer units' whizz along on neodymium motor structures, whatever they are.
The control unit speaker hosts a bass level control along with the main volume dial, plus a headphone jack and line and auxiliary input jacks.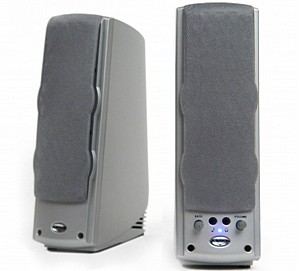 Klipsch insist that their audiophile design approach provides "rich midrange clarity, extended airy highs and a satisfying bass punch, creating balance throughout the audio spectrum," although we've yet to audition them.
Priced at £120, they directly compete with the highly rated Creative Gigaworks T40 Series II speakers which we reviewed earlier today, and some may find Creative's more conventional design sits easier on the eye .
However, if you like your speakers to have a touch of the Space Odyssey's, there's no denying that the ProMedia Ultra's pack an impressive punch, with a spec sheet that should have no problem delivering the sound of war to your bedroom.
ProMedia Ultra 2.0 iPod & Computer Speaker Specification
FREQUENCY RESPONSE 50Hz-20kHz +/-5dB
POWER HANDLING 30 watts total: 15 watts x 2 channels
MAX ACOUSTIC OUTPUT 100 dB SPL
NOMINAL IMPEDANCE 3 ohms
MAXIMUM ACOUSTIC OUTPUT 100 dB SPL
TWEETER 1" metalized polymer
HIGH FREQUENCY HORN MicroTractrix™ Horn
WOOFER Dual 2.5" metalized, fiber-composite cones with powerful neodymium magnets and 1" voice coils
AMPLIFIER High efficiency class-D
ENCLOSURE TYPE Tuned port
INPUT CONNECTIONS 3.5 mm stereo jacks
INPUTS Line input; auxiliary input
OUTPUTS 3.5 mm stereo headphone output
DIMENSIONS 10.5" H x 3.25" W x 6.5" D
WEIGHT 7.5 lbs
FEATURES Auxiliary input, headphone output, bass level control
FINISHES Silver
VOLTAGE 230v