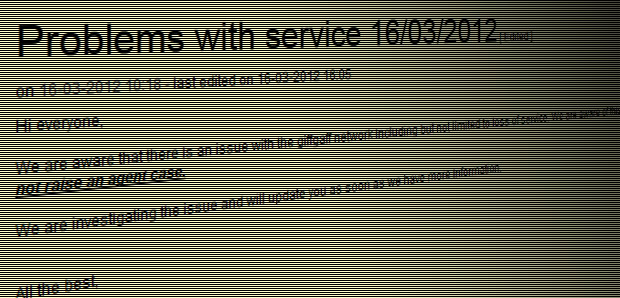 Twitter is veritably frothing with mightily miffed Giffgaff users who have had no service all day.
The "people-powered" network which runs on the O2 network has been completely offline since this morning after suffering a power cut.
Giffgaff told customers that the problem is down to a burst water main which knocked out  the electricity supply to one of its central control sites, leaving the entire system as useful as a bucket with a hole in it.
The company is asking users not to raise an 'agent case' on their support website, but that's not much use to enraged customers who can't make calls, receive calls, send texts or even access their waiting voicemails.
Their support website insists that "all data should be working" after 15:52 (it's not for us) and that the voicemail issue should be fixed in the "next hour or two."
Giffgaff has grown increasingly wobbly in recent months, and it's certainly making some of our friends reconsider their network choice.  Sort it out, GiffGaff!