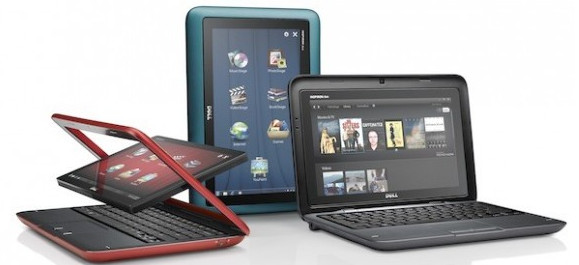 It's a clever, albeit weird looking, contraption allright, and now Dell's innovative Inspirion Duo convertible netbook has gone up for pre-order on Microsoft's store.
Flippin' 'eck
Featuring a novel, flip-hinged design, the Dup can be converted from a netbook to a laptop touting a full QWERTY keyboard with just a deft bit of swivel action.
The Duo comes with a 10.1-inch 1366 x 768 pixel touchscreen HD display, Intel dual-core Atom N550 processor, Broadcom Crystal HD video accelerator for 1080p HD video acceleration and 1.3-megapixel integrated webcam and runs on Windows 7 Home Premium.
There's also 2 GB DDR3 800 MHz RAM onboard, plus a 320GB 2.5-inch HDD SATA 7200 RPM hard drive and memory card reader (SD/SDHC/MMC).
Connectivity options include 2 USB 2.0 ports, VGA (15-pin) and LAN (RJ-45), 802.11b/g/n Wi-Fi and Bluetooth, with the 4-cell lithium-ion offering up to up to 4 hours performance.
December release
There's also an optional $49 docking bay on offer, with the unit expected to ship in the first week of December.
We're not quite sure what to make of the thing, but we hope to get a hands-on with it soon and give you our feedback.
[Microsoft store] [Via]