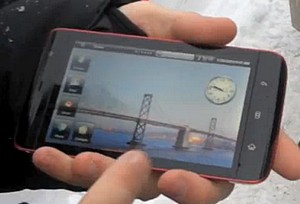 Michael Dell, Lord King Emperor of all things Dell, was hunted down by the TechCrunch team who persuaded him to slip them a glimpse of the eagerly awaited Dell Mini 5 tablet.
Looking well chuffed and cheery as he scuttled en route to the World Economic Forum in Switzerland, Supreme Being Dell gave the camera crew a quick peek of the Android-powered device, swishing through four home screens with gay abandon.
Details are as flaky as the snow seen falling on High Commander Dell's head, but the Mini 5 is expected to thunder along on a 1GHz Snapdragon-powered CPU running Android 1.6.
Other specs include a 5 megapixel camera, Wi-Fi, Bluetooth, and 3G mobile.
Set to be snuggling into your palmed hands "in a few months," pricing has been set around a rather lofty $1k before carrier subsidy, although the price may come crashing down when offered on contract – or when Dell take another look at the iPad's pricing.
[Via]