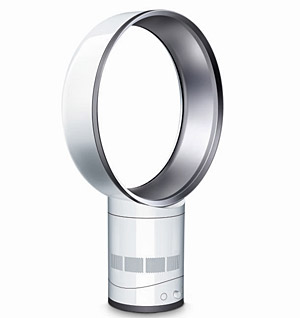 Sir James Dyson – the fella who created the bag-less the vacuum cleaner has now done the same for desk fans, creating a sci-fi looking device that does away with rotor blades.
Called the Dyson Air Multiplier, the near-magical creation creates a powerful, cooling breeze with no spinning blades and no chance of hurting your fingers if you drunkely start fiddling about with the thing.
It's stuffed full of clever engineering tricks, but the basic premise is that it's like a Dyson vacuum cleaner working in reverse, with the base station sucking up air and forcing it through the circle at the top.
"We realised that this inducement, or amplification, effect could be further enhanced by passing airflow over a ramp," explained Dyson.
"And of course this was the point where the idea of a bladeless fan became a real possibility. Here was a way to create turbulent-free air and finally do away with blades." said James Dyson
Dyson reckons the Multiplier increases pressure 15-fold and is capable of producing 118 gallons of air every minute.
The Air Multiplier is available in 10-inch and 12-inch versions, with the smaller one available in 'blue & iron' and 'silver & white' while the 12 incher only comes in the silver and iron finish.
Air flow can be controlled by a dimmer-like knob that controls air flow, with an option to set an oscillating breeze.
The Air Multiplier can be tilted just by pulling the ring forward or back.
Wired Magazine got their hands on one and were suitably impressed:
The fan's operation is really quite amazing. Not only is it eye catching — everyone at the Wired office today was slack jawed by its striking build and apparent miraculous tempest — but the thing runs quiet too. There's virtually no operating noise aside from the light hum of the engine and whoosh of the blowing gas.
We're loving the looks too, but the price is a real bummer: £200. Yowch.