Looking like the offspring of an unholy alliance between a Kindle eReader and Microsoft's tragically abandoned Courier project, Entourage's Pocket eDGe is a dual-screen Android 1.6-powered clamshell device with a 7-inch colour touchscreen and a Wacom-enabled 6-inch E Ink epaper display.
Dual screens
The 7" LCD screen on the right hand side is intended for displaying Android-powered functions like web browsing, viewing videos, calendars and Microsoft Office documents etc., while the 6" E-Ink screen is for viewing e-books, PDFs and documents in ePUB format.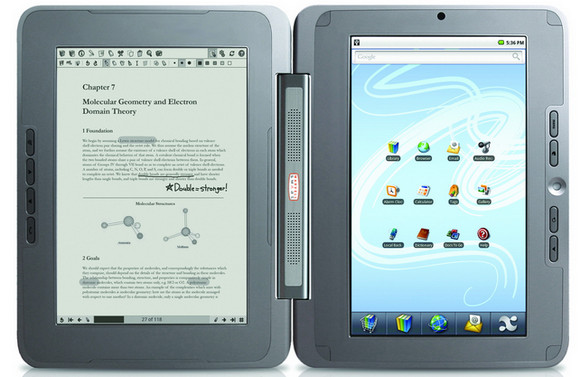 Stylus onboard
The E-Ink screen is Wacom Pen enabled and comes with an included stylus, letting users mark up documents and make notes when the Journal function is activated.
The Pocket eDGe comes built-in speakers, a microphone and a camera with the ability to project presentations through a USB-Video adapter.
Close… but no cigar
We love the idea of this concept, but we can't say it looks particularly attractive as an overall package and at such a low price point we suspect that the user interface isn't going to be as smooth or as integrated as we'd like – but then we're still sulking about the cancellation of the Courier.
However, if you're still digging the look of this twin screen gadget, the eDGe is priced low at a keenly competitive $399.99 and will be made available this month in the US. We've no idea about UK availability yet.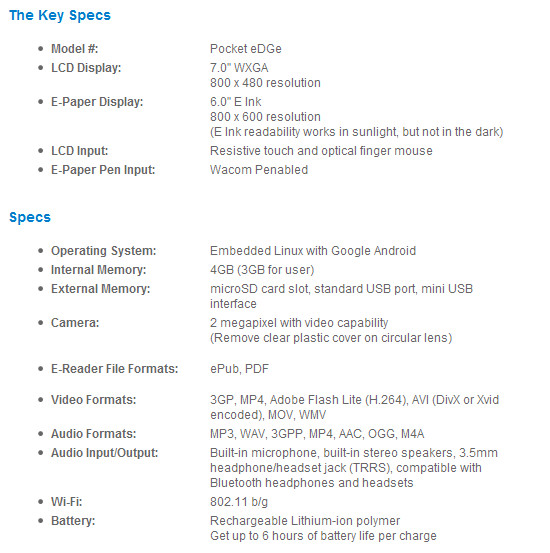 Press Release:
WORLD'S SMALLEST DUALBOOK, POCKET EDGE, ENABLES MOBILE LIFESTYLES WITH MULTIMEDIA TABLET, NETBOOK AND E-READER FUNCTIONALITIES

McLean, VA – Consumers who crave portability, but don't want to be weighed down by numerous consumer electronics can now easily read, write and surf the Web on-the-go with enTourage Systems' Pocket eDGe – a device that gets users through the day with its comprehensive professional and entertainment applications, combining the functionality of a touch screen tablet, e-reader and notepad.

The Pocket eDGe is a compact, multi-purpose, WiFi-enabled device, weighing just 24 ounces as the smallest dualbook available on the market. It is comprised of hinged LCD and E-Ink screens that interact for better communication and engagement with multi-media materials. Available content includes a vast array of e-books, periodicals and music available through enTourage Systems' Web store.

The 7" LCD screen is ideal for Web browsing or viewing videos. The LCD side allows users to send emails to quickly stay in touch and manipulate Microsoft Office documents. Users can take advantage of useful applications that are already incorporated into the software, such as the built-in calendar app which makes it easy for users to keep track of appointments. The Pocket eDGe also operates on the Google Android operating system, providing access to numerous helpful Android applications available at enTourage Systems' application store and other third-party developer sites.

The other side of the product contains a 6" E-Ink screen for accessing any e-books and documents in EPUB. It is also compatible with PDF documents. The E-Ink screen is Wacom Penabled, allowing for easy annotation or note-taking with an included stylus, when the Journal function is activated. With this technology, users can mark up documents, such as notes, recipes or contracts, and then send them as PDFs to friends and colleagues.

The two screens uniquely interact. Users have the ability, for example, to search terms and key words from e-books in Google, a dictionary or via Wikipedia on the LCD side. The Pocket eDGe has built-in speakers, a microphone and a camera – letting users record lectures and meetings, or capture images, listen to music and watch videos. The mobile professional or student can also project presentations through a USB-Video adapter.

"Consumers are becoming increasingly mobile and demand technologies and information access regardless of their location," said Asghar Mostafa, CEO of enTourage Systems, Inc. "The Pocket eDGe is compact and lightweight, but full of all of the features and tools an on-the-go user would need for work, school or recreation anytime, anywhere."

To-date, enTourage Systems has secured more than 250,000 trade books and hundreds of New York Times best sellers, in addition to the more than one million free public domain books digitized by Google, that are all available at its e-book store. enTourage Systems provides access to over 1,300 newspapers from 82 countries and 39 languages, and also has enhanced its e-store with more than 8 million music tracks and albums from major and independent labels – creating a one-stop solution for digital content.

The Pocket eDGe inspires a green lifestyle, allowing users to store all notes, documents and books digitally to decrease paper waste.

The Pocket eDGe can be oriented to view the LCD vertically or horizontally, or it can be held like a book, propped open like a laptop, or opened the full 360-degrees to view only one screen.

The Pocket eDGe will be available in November 2010 at major online retailers for $399. For more information, please visit www.entourageedge.com, the enTourage eDGe Facebook page or @enTourageeDGe Twitter feed.