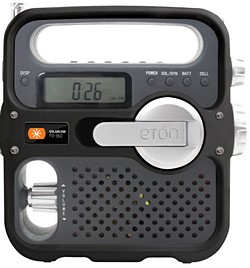 With the festival season coming up fast, wind-up merchants Eton are hoping that their self powered Eton FR360 Solarlink radio will prove just the thing for the cider-addled masses.
Claimed to be a "state-of-the art multi-tasking solar-powered & wind-up AM/FM/shortwave radio with torch, siren and mobile phone charger," there's certainly no shortage of gizmos onboard.
Power x 4
The Solarlink FR360 offers four choices of power – 3 x AAA batteries, solar power, wind up power and internal NiMh re-chargeable battery pack – with a splashproof case keeping potentially catastrophic scrumpy splashes at bay.
The radio covers AM/FM and shortwave bands and the hand-cranked marvel comes with a built-in flashlight as well as USB mobile phone charging capabilities.
Popeye
If this is anything like the previous mobile wind up chargers we've tried out, smartphone users can expect to grow some Popeye sized arms for anything other than the briefest of charge-ups, so don't forget to pack your spinach.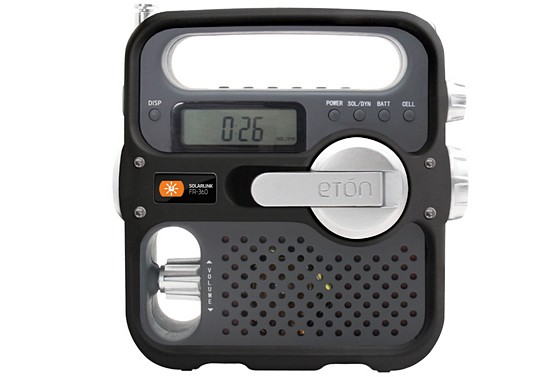 Woooo-oooh!
For those late, late night moments when the bands have stopped playing and the (ahem) 'plant food' is still kicking in, there's also a flashing red LED emergency light and siren to keep the techno party going.
The Solarlink FR360 is available now for £49.99 from www.etoncorp.co.uk.
Eton Solarlink FR 360 specs:

· Portable radio with AM/FM and shortwave reception
· FM 87.5-108Mhz; AM 531-1611khz
· Shortwave bands :
· SW1 – 5.80-7.50 Mhz
· SW2 – 9.30-10.05 Mhz
· SW3 – 11.55-12.20 Mhz
· SW4 – 13.40-14.00 Mhz
· SW5 – 15.00-15.80 Mhz
· SW6 – 17.40-18.05 Mhz
· SW7 – 21.20-21.80 Mhz
· Power source 1 – 3 x AAA batteries
· Power source 2 – solar power
· Power source 3 – wind up power
· Power source 4 – internal NiMh re-chargeable battery pack

· Rugged spashproof case, ideal for outdoor use
· Front mounted wind up handle for quick power to radio anytime
· USB cell phone charger
· LCD Backlight
· Clock time / alarm feature
· 4 LED Flashlight with red flashing beacon feature
· Sleep feature, select 90, 60, 30 or 10 minutes countdown
· Snooze feature
· Earphone jack with waterproof cover
· Audio in jack (for iPod etc) with waterproof cover
· Built in telescopic antenna for improved reception
· Size 6.25″ x 6.50″ x 1.75″ WHD (158 x 165 x 45mm)
· Weight 1 lb.(0.45kg)