With the bare minimum of fuss, Sony have announced two new entry level models in their Alpha series of dSLRs, the Alpha DSLR-A290 and DSLR-A390 D-SLRs.
The Alpha DSLR-A290 replaces the DSLR-A230, while the latter updates their DSLR-A350  model in what really amounts to a fairly minor product refresh.
Get a grip
Both cameras add a new grip design to the existing models, come with on-screen camera guides,  HD outputs and BRAVIA Sync, and have their sensors updated to the image-stabilised 14.2MP CCD jobbie seen in the A380.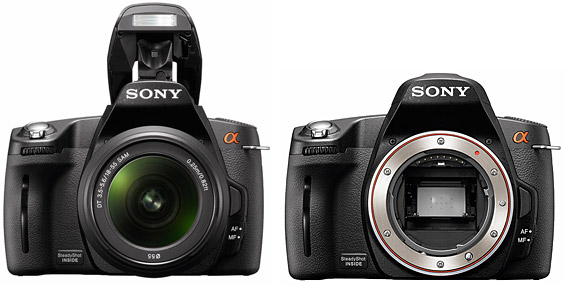 The pricier A390 comes with Sony's fast liveview system and a 2.7 tilting LCD, while the A290 has a fixed LCD, nothing in the way of  liveview but compensates with a larger viewfinder.
The keenly priced  A390 and A290 cameras will start shunting into shops next month at a retail price of and €500 and €450($600 and $500 in the US).
For first time dSLR-ers
They look a pretty decent offering for budget-strapped snappers keen to upgrade from shonky point'n'shoot compacts.


Here's the press release from Sony:
June 9, 2010: The α (Alpha) digital SLR range from Sony grows further with two stylish, affordable new entry-level cameras.

Ideal for first-time DSLR users, the DSLR-A390 (α390) and DSLR-A290 (α290) offer a dramatic step up in picture quality and creative options from point-and-shoot compact cameras. Just as importantly, they're beautifully easy to use, even if you've never handled a DSLR before.

With a resolution of 14.2 effective megapixels for flawless, low-noise images, both cameras offer the speedy shooting responses that are prized by DSLR users.  The α390 adds the extra benefit of Quick AF Live View. This unique system teams the convenience of live image preview on the tilt-angle Clear Photo LCD with speedy, accurate phase-detection autofocus.

The most affordable new DSLR from Sony, the α290 offers the same 14.2 effective megapixel resolution as the α390 in a compact body that weighs just 456g (excluding battery and media).

Both cameras feature an attractive new grip design that allows even more comfortable handling. Upper control areas of both models have also been revised with a clear, uncluttered new button layout.

Even DSLR novices will find it brilliantly simple to explore the generous creative features of both new cameras. The intuitive Graphic Display makes it easy to understand the relation between shutter speed and aperture, plus the effects of your chosen exposure settings on the final picture. The Help Guide offers clear, concise explanations of camera functions, illustrated by a sample image to show the results you'll achieve. Quick access to shooting and playback function menus is streamlined by colourful on-screen icons.

The α390 and α290 include a mini-HDMI terminal for direct connection to any HD Ready TV (requires optional cable). Support for PhotoTV HD ensures even better-looking still image reproduction on compatible BRAVIA™ models.  BRAVIA™ Sync allows control of slideshow and other camera playback functions in comfort using your TV remote.

The stylish, easy to use new α390 and α290 digital SLR cameras by Sony are available from summer 2010