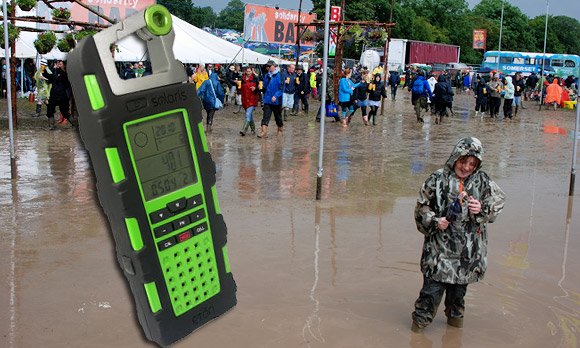 Looking like the kind of thing lantern-jawed explorers would pack before embarking on trips of great derring-do in the wilderness-is Etón's extra chunky Raptor outdoor adventure radio.
Built for gunge
Designed for trekkers, travellers, campers and those preparing to do battle with the bubonic mud pits of Glastonbury, the solar powered gadget packs in enough gizmos to make Batman consider trading in his Utility Belt.
The Etón Raptor crams in an AM/FM radio, LED torch, altimeter, barometer, compass, alarm clock and phone charger. Perhaps most important of all is the provision of a bottle opener, to guarantee a constant flow of fresh Old Scrotum Ale while on the move.
Weighing a modest 320g, the Etón Raptor is 'IPX4' splashproof, which means it can withstand a direct, constant shower for five minutes. Not enough to survive the average UK music festival then, but probably long enough to keep the thing working while you stumble into the nearest herbal high emporium.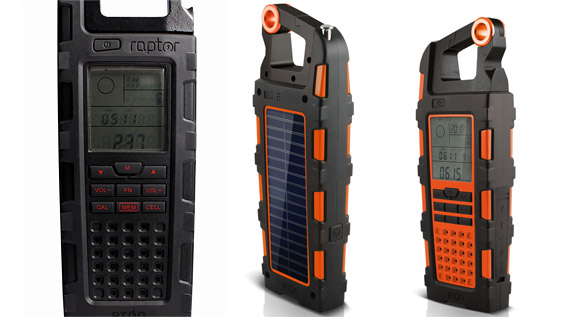 Hang the radio
The radio comes with an aluminium carabiner clip so you can hang it from your rucksack in a stylish kind of way, while lurking behind a protective rubber flap is an USB output for charging gadgets. There's also a Mini USB power input for mains charging the unit's built in 1800mAh Lithium Ion battery pack.
Wrapping up the feature set is a headphone socket and audio input for playing back music from your phone/MP3 player/iPod, with the whole caboodle retailing for £99.
If that kind of expenditure is likely to terminally damage your (ahem) 'enhancements' budget for the festival of your choice, it's worth looking at their cheaper (£45)  alternative, the equally rugged and macho-looking Eton Scorpion
.
Eton Raptor specs:
Solar powered
Multi-Function radio
AM/FM Bands
10AM + 10FM Station Memories
Digital Clock with Alarm Feature
Digital Display
Powerful LED Flashlight
Altimeter (altitude information)
Barometer (pressure and temperature)
Compass
Chronograph
USB Power transfer to charge cell phones
1800mAh Lithium Ion battery
Battery charge indicator
Bottle opener
Aluminium carabiner
New monocrystal solar panel
Audio Line Input
Headphone output
DC Input with mini USB plug
Spashproof to IPX-4
Size :- 73 x 203 x 32mm WHD
Weight :- 320g
[Eton]