Back in the early days of the web, building a site was pretty easy – you  just had to get your head around the rudimentary HTML code, lob in a few images and you were off.
Since then, web sites have become far more complex affairs with users' expectations rising accordingly: if your site isn't peppered with Twitter feeds, YouTube videos, Flickr slideshows, Facebook updates, contact forms, RSS feeds and more, potential customers may click elsewhere.
Xara Web Designer 7 aims to make to make it easy for newbies to put together feature-packed, good-looking websites courtesy of a simplified drag-and-drop interface, widgets and templates.
Straightforward interface
Anyone who's used the company's superb Designer Pro/XTreme vector programs will find the program's layout familiar, with the minimalist WYSIWYG layout doing its best not to overload new users with options.
The program uses layers to let users shunt objects (text boxes, graphics or photos) around the page or on top of each other, with support for text flow, transparency and drop shadows.
Photos can be imported and edited, and effects and transparency added, and you can see a demo of what the program is capable of here.
Widgets and templates
Widgets let you bolt on all the modern functionality via a slide out gallery, and there's a pile of fairly good-looking, downloadable templates for those who want to get up and running quickly.
The program still takes a little getting used to though, so if you've never built a website before, be sure to take time to peruse their extensive help files as it can get a little frustrating at times.
Not for pros
We found that it's certainly possible to put together an attractive small site in an hour or so, although experienced coders will soon find the limitations of the program frustrating as it's not possible to get under the hood and edit the HTML or CSS.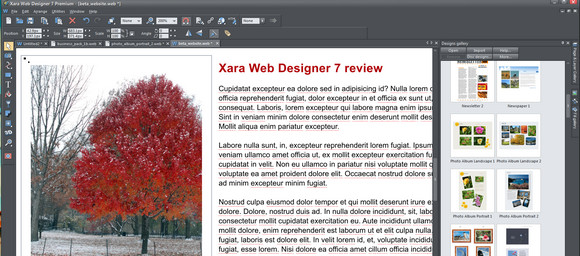 Conclusion
Xara Web Designer 7 is available in two editions: the standard £39.99 package and a £89.99 Pro version offering more templates, basic Flash creation support, freehand graphics tools, animated page transitions and other extras.
Although we wouldn't recommend the program for building large, complex sites, we'd certasinly suggest that new users looking to put together a good looking website with modern functionality should give it a look.
Xara Web Designer 7 ratings

– Features


– Ease of use


– Interface


– Value for money


– Overall
[Xara]