Admitting that they've been serving up, "a certain lack of love and attention," the team at Evernote are hoping that Android users are the forgiving kind as they attempt to woo them with a series of gift wrapped updates.
'Cooler than the iPhone'
The company say that they've "significantly ramped" up Android development by more than doubling their Android team, and promise that they're about to shower Android users with goodies galore.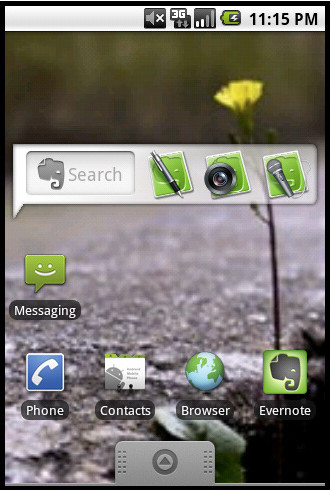 Such is the love they're now throwing Android's way, their VP of Engineering squeaked, "My Android is now cooler than your iPhone."
The widget has landed
The first new feature to flow out of the love-filled offices is a rather natty looking Evernote Widget, which lets users quickly "pop into a search or into a new text, snapshot or audio note."
Pinch'n'zoom
There's also a new pinch and zoom feature for notes.
The loved up dev team are also keen to point out that the ability to send stuff directly from other apps into a new Evernote note is only available on Android.
Evernote now caches notes read on the device making them quicker to open again, a first step towards offering offline note storage, which will be "coming soon."
Bugs squashed
The update also fixes a few lurking bugs, listed here:
Fixed a problem that kept an edited note from updating properly
Fixed a problem that removed intentional white space within notes
Added higher resolution iconography (Android 2.1 and later)
Placed the Save button onscreen on the audio notes screen
Fixed a problem that kept the app from loading tags properly
Evernote for Android can be downloaded from the Android Market or from AppBrain.
Note that if you're having trouble accessing Evernote after updating, a restart of your phone might be in order.
[Evernote]