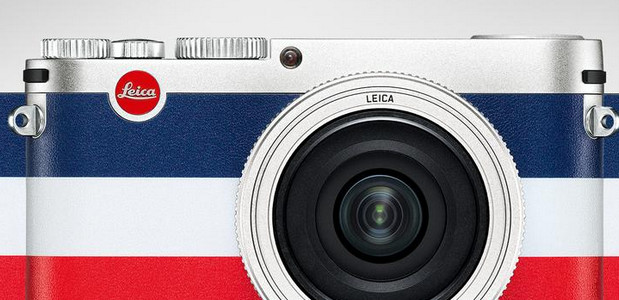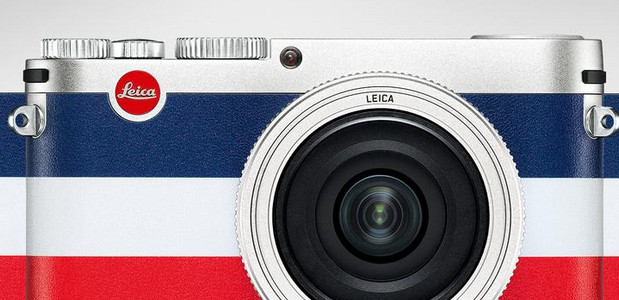 They always say that a fool and his money are soon parted, but you'd have to be a real clown to shell out nearly two grand for this ludicrous confection: a brightly painted Leica X camera that positively invites ridicule.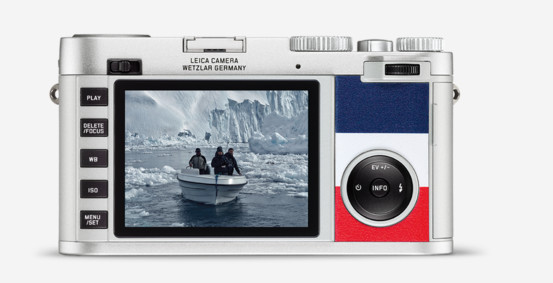 The Leica X Edition Moncler is a new special-edition model limited to only 1,500 copies worldwide and priced at  a hefty £1,952 – nearly £500 more than the standard silver and black versions of the camera.
Finished in a gaudy leather trim of blue, white and red stripes, the look is designed to be an 'omage to the French origins of posh clothing company Moncler, and there's even a matching camera strap bearing the inscription Leica & Moncler to "highlight the collaboration between the two brands."
That's all nice and cosy but the end result is something that worsens both brand values: this just looks tacky and, frankly, cheap.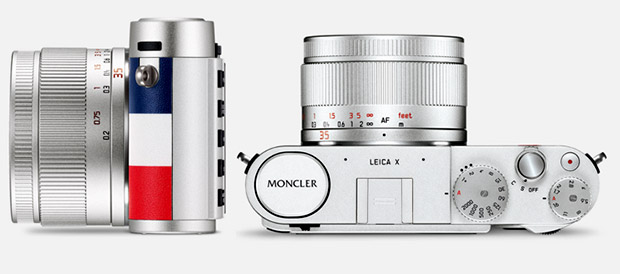 Now don't get us wrong, this is a beautiful camera alright, with a stunning 23mm f1.7 lens and all that Leica magic that turns normally-sensible photographers into drooling bags of consumer lust, but no serious photographer is going to want to walk around with this candystick confection around their necks.
If you're hell bent on seeing that Leica logo swinging around your neck, then get the plain Leica X camera – you can read a pretty positive review here – or go for something that's faster, smaller and can produce pretty much identical results for a quarter of the price, the wonderful Ricoh GR.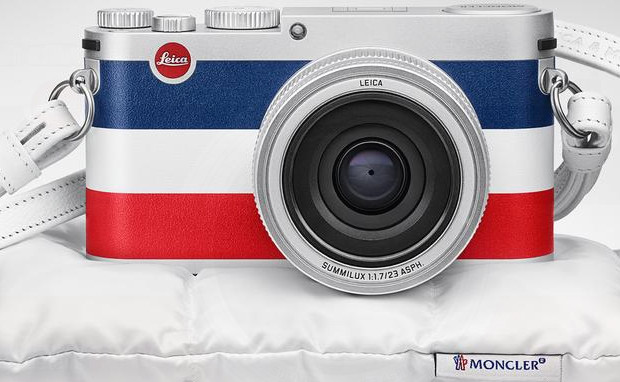 Leica X (Typ 113) Specifications
Pixels
Actual: 16.5 Megapixel
Effective: 16.2 Megapixel
Sensor
APS-C CMOS
File Formats
Still Images: DNG, JPEG
Movies: MP4
Max Resolution
16.1MP: 4928 x 3264
Aspect Ratio
3:2
Lens
Leica Summilux 23 mm f/1.7 ASPH. (35 mm equivalent. 35 mm), 10 elements in 8 groups, 2 aspheric lens elements
Aperture settings
1.7 to 16 (1/3-EV increments)
Focusing range
20 cm -infinity
AF focusing
1-point, 11-points, spot, face detection
Image sensor
APS-C CMOS image sensor with 16.5 MP (effective 16.2 MP)
Resolution
JPEG in 3:2 format: 4928 x 3264 pixels (16.1 MP), 4272 x 2856 pixels (12.2 MP), 3264 x 2160 pixels (7.1 MP),2144 x 1424 pixels (3.1 MP), 1632 x 1080 pixels (1.8 MP). DNG in 3:2 format: 4944 x 3278 pixels (16.2 MP).Video: 1080 pixels 30 fps, 720 pixels 30 fps
Image quality
JPEG super fine, JPEG fine, DNG + JPEG super fine, DNG + JPEG fine
Exposure modes
Automatic program (P), automatic aperture priority (A), manual setting (M)
Exposure compensation
Increments: 1/3 EV to 3 EV increments, 3 exposures
Automatic exposure bracketing
1/3 to 3 EV increments, 3 exposures
Metering modes
Smart multi-segment metering, center-weighted metering, selective (spot) metering
White balance
Auto, halogen, daylight, flash, cloudy, shade, electronic flash, 2 manual settings, manual color temperature setting with fine tuning
Sensitivity
Auto, ISO 100, ISO 200, ISO 400, ISO 800, ISO 1600, ISO 3200, ISO 6400, ISO 12500
Shutter speeds
30 s to 1/2000 s
Continuous shooting
3 fps or 5 fps, max. 7 consecutive exposures with constant shooting speed in DNG + JPEG fine quality
Film modes
Standard, dynamic, natural, b/w natural, b/w high contrast
Flash modes
Auto, flash exposure correction, red-eye correction, fill-in flash, slow sync, studio, 1st/2nd curtain sync
Hot shoe
Compatible with Leica flash units and Leica Visoflex
Monitor
3″-TFT LCD with 920,000 pixels, wide-angle field of view: 100 %
Review modes
16-thumbnails display, zoom review (16 x max.), image rotation, deletion protection
Storage media
Internal memory: none. Memory cards: SD, SDHC, SDXC
Interfaces
HDMI out, USB (USB 2.0 high speed)
Battery (rechargeable lithium-ion)
Capacity: approx. 350 exposures
Software
Adobe Photoshop Lightroom (free download option after camera registration)
Dimensions (L x H x D)
Approx. 133 x 73 x 78 mm (5.23 x 2.87 x 3.07″)
Weight
Without Battery: 451 g/15.9 oz
With Battery: 486 g /17.14 oz