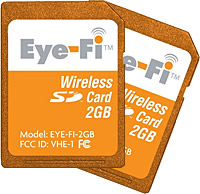 Eye-Fi's range of wireless SD memory cards will finally be washing up on UK shores.
Scheduled to shuffle on to shop shelves on 19 October, the Eye-Fi cards cunningly let you upload photos and videos to your PC without faffing about with USB cables or having to yank out the card.
They may look like regular SD cards to you, dear unsuspecting reader, but deep within the Eye-Fi card lurks a Wi-Fi transmitter, letting you upload photos and videos directly to your PC or the web as soon as you amble into the range of a wi-fi zone.
Compared to the US, us Brits are only being offered a sting range of three 4GB Eye-Fi cards- the Eye-Fi Home Video, the Eye-Fi Share Video and the Eye-Fi Pro.
Jef Holove, CEO of Eye-Fi, was ready and willing to big up his product:
Because Eye-Fi eliminates the time and hassle, more than half of our users upload their photos and videos within 24 hours of capturing them. So, those memories are backed up, organized and shared with friends and family while they are still fresh.
In the States – where the cards were introduced over two ruddy years ago – there's a larger range available,  including a geo-tagging option.
Priced at a pocket-challenging £49.99 to £119.00, the cards will go on sale at Amazon, Apple, Computer Warehouse and Dabs.
Here's the full details:
Eye-Fi Home Video – automatic photo and video backups to the computer
The Eye-Fi Home Video card saves users time by wirelessly uploading JPEG photos and videos from their camera to their PC or Mac. Offering 4GB of memory, the Eye-Fi Home Video stores up to 2,000 photos or 90mm of video and provides automatic backup to the computer thanks to its wireless capabilities.
Eye-Fi Share Video – wireless saving & sharing on the Web
The Eye-Fi Share Video card allows users to pick where their memories go, choosing from popular websites like Flickr, Facebook, Picasa, MobileMe or YouTube. The Selective Transfer option, available for all Eye-Fi cards, enables users to control which media will be wirelessly uploaded.
Eye-Fi Pro – streamlining the workflow
The Eye-Fi Pro card wirelessly uploads JPEG, RAW and video files to any folder on a computer (PC or Mac) and to the Web. Photographers on-the-go can also take advantage of its direct to computer (ad hoc) connectivity capabilities for direct uploads from camera to the computer without the need for a router. Organizing is made easy through lifetime, automatic geotagging (using Wi-Fi Positioning System or WPS), which enables users to view, search and share photos on maps and take advantage of integration with iPhoto '09.
More information is available at www.eye.fi