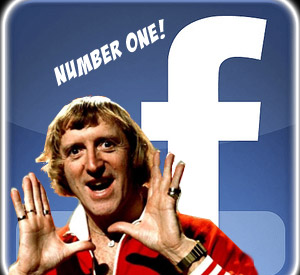 Facebook now accounts for a thumping 14.5 per cent of the UK's entire web traffic, according to hot stats from analyst bods, Hitwise.
This makes the social networking site by far  the most popular web destination for Brits, receiving well over double the traffic of Google, which recorded a 5.8 per cent UK  market share.
However, Google continues to dominate the UK's top ten trafficked sites, with YouTube, Gmail, Google, Google UK and Google UK Image Search all making an appearance.
According to Hitwise, Facebook's rise has been nothing less than meteoric, recording a hefty 86.1 per cent rise in traffic over the year.
People are spending longer on Facebook too, with  users chatting, poking and messaging  for an average 26 minutes 14 seconds per session, a whole five minutes from September last year.
And this, dear readers, spells out healthy signs for the site's future, as a clipboard-wielding Hitwise spod explains:
Facebook remains far and away the most popular social networking website in the UK. One significant factor is that the site's growth in the UK doesn't yet show any signs of slowing. A key measure of success for any social network is average session time; as we have seen with sites such as Friends Reunited and MySpace, when average session times begins to drop off visitor numbers soon follow.