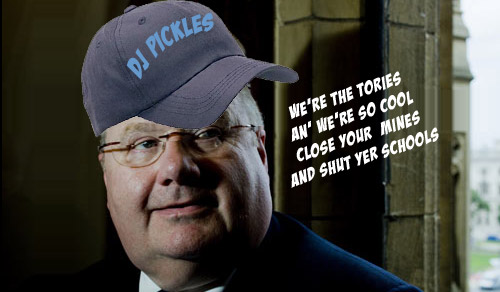 We've become increasingly annoyed by the growing amount of adverts on the free Spotify service, but  we may have to give up on the service altogether, come the run up to the UK general election.
In an attempt to woo the 'yoof' market and get down with the kids, the Conservative party have announced that they're going to be the first UK first political party to buy ads on Spotify.
David Cameron and his fellow toffs have announced a marketing campaign on the popular music streaming and download service, with the first forty-second audio advert featuring Conservative party chairman, "DJ" Eric Pickles, spitting a rap about debt. And, man, Pickles certainly knows the word from the street on that score.
Targeted ads
Spotify's ability to target listeners by postcode means that the Tories may ramp up the ads in areas where  support is wavering, or try and focus on local issues.
Moreover, UK political parties aren't allowed to advertise on TV or radio outside of election broadcasts in the run-up to a general election, so the Spotify ads provide a handy way for the Tories to smarm their way into your heads.
"We are always looking for new and relevant ways of engaging with people, and I think this Spotify advert adds to an already strong track record of being early adopters when it comes to online communication," grooved shadow culture secretary, Jeremy Hunt.
"The growth of Spotify in the UK has been phenomenal. We were particularly impressed with its advertising model and its potential for political campaigning."
The first ad launches next week. We suggest you keep the off switch within close reach.