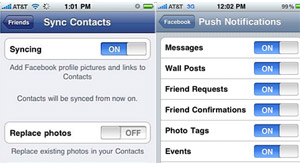 We loved the Palm Pre's ability to sync Facebook contacts and profile photos, and a new update means that iPhone users can join in the fun.
The updated v3.1 Facebook client for the iPhone adds customisable push notifications and contact syncing to your Address Book.
The new push settings let you decide what events will fire off a notification, letting you keep updated with, say, notifications for friend requests, but skip hyperactive friends who like to add new comments for every single inane act in their dull, dull lives (yes, we have one or two friends just like this).
Having this level of control over what notifications appear on your iPhone should make looking at Facebook pop up messages a lot less daunting.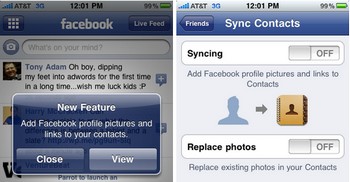 The bit we really like though is the ability to add Facebook profile pictures and links to your existing iPhone contacts, making it easier to add some purdy graphics to your dour contact book.
We love having friend's photos automatically appear in our address book, but even with this new Facebook syncing feature, the iPhone still lags behind Palm's superior Synergy system, which cunningly links multiple profiles across multiple sources for a tidier address book .
Hopefully, well be getting that full experience on the iPhone sometime soon.
Facebook 3.1 is a free download from iTunes. Be warned that it can take quite a while for the syncing to take place – we had to do it in several goes as we kept getting errors too.