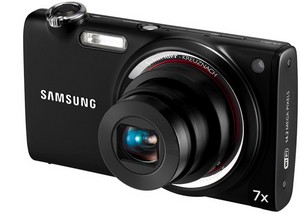 Samsung has taken the wraps off their new CL80 and TL240 14.2MP digital cameras, two devilishly slim numbers stuffed full of the latest technology.
The Samsung CL80 – which has already scooped up a 2010 CES Innovation Award – comes with integrated Wi-Fi connectivity and a 3.7-inch WVGA AMOLED touch screen, while the TL240 serves up a 3.5-inch TFT touch screen.
The first consumer products created using the mysteriously-sounding hydro-forming technology, the identical CL80 and the TL240 cameras come with Schneider KREUZNACH lenses which Samsung claim were "inspired by the mirror-writings of Leonardo da Vinci". We *heart* daft waffle like this!
A nice touch is the fact that the cameras have a slightly slanted design. This places the back of the camera at a seven degree angle making it easier to grab group portraits when the camera is placed on a wall or table. The shutter release is also angled for your ergonomic pleasure.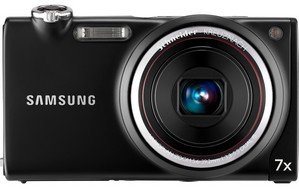 In line with their consumer-friendly aspirations, Samsung's Smart Auto 2.0 (Still & Movie) scene recognition technology is fitted on both snappers to automatically recognise scenes and select the appropriate settings for photos and video.
"Consumers are looking for that great all-in-one camera – a digital camera that takes great pictures, is visually appealing, and provides a wealth of features to ensure a great image or video every time," roared Mr. SJ Park, CEO of Samsung Digital Imaging Company.
"The CL80 and TL240 deliver on that need for consumers to have a camera that does it all, and in the case of the CL80 we've taken it even a step further by providing several connectivity options to share those photos and videos on the go."
Zoom and video
The CL80 and the TL240 offer generous 7x optical zooms backed by Samsung's Dual Image Stabilization technology, which combines both optical and digital stabilisers to counteract the wobblies when shooting stills and recording video.
Both cameras offer 720p HD video recording at 30 frames-per-second in H.264 format and come with built-in HDMI connectivity.
CL80 and Wireless Connectivity
The CL80 is a well connected fella, offering Bluetooth 2.0, Wi-Fi and DLNA. If there's an available Wi-Fi connection about, users can email photos using the camera's touch screen QWERTY keypad to input the email address (and add comments), or select addresses from the built-in address book.
Images can also be directly uploaded to Facebook, Picasa and YouTube, as well as SamsungImaging.com, although there is a twist: all images transferred through Wi-Fi will be reduced to a resolution of two mega-pixels. With Bluetooth, images will be ruthlessly crushed down to a miserly 1024×768 pixels (1MB).
Smart Gesture Touch-Screen User Interface
Both cameras incorporate Samsung's Smart Gesture touch screen user interface backed by an internal Gravity sensor.
Smart Gesture lets users access menus and functions via hand gestures or by tilting the camera, with finger swipe/tilt image scrolling and the ability to delete images by writing "X" on the screen with their finger, or rotating images by drawing a circle on the screen.
Smart Gesture UI also offers object tracking: select the required object or location by pointing onscreen, and the camera will lock and keep their focus on the subject, even if it's moving within the frame.

There's no news on pricing or availability yet, so set your controls for the heart of SamsungImaging.com for more info.
Meanwhile, here's a feast of specs for y'all to slaver over.