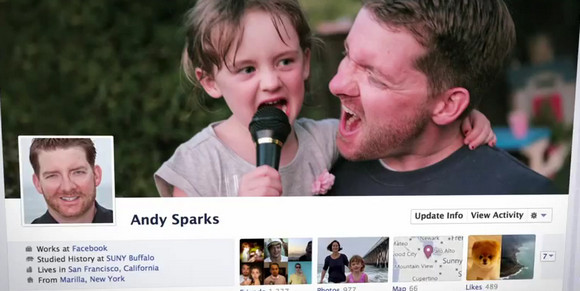 Facebook has unveiled Timeline, described as a "major re-imagining of user profiles," which allows users to build a visual scrapbook of their activities on the site over the years.

Organised. With algorithms
Shown off by CEO Mark Zuckeberg at the company's f8 conference today, the new feature  'algorithmically organises' all the stuff you've shunted on to the social networking service.
To build up your personal timeline, the service rifles through all your photos, updates, check-ins, posts, relationship statuses and the like to create a dated record of your activities over the years.
There's even a "Way Back" section that invites users to add details that are omitted or happened before the awesome time-sucking beast that is Facebook existed.
Coming soon
Facebook say that the feature will be rolling out over the upcoming weeks, but you can check out the video below to see if it's the kind of thing you're going to love – or your worst nightmare.
We fancy Bill Barol at Forbes voiced it best:
Facebook CEO Mark Zuckerberg's quick tagline for the new product — "It's your whole life" — sketches the grandeur of Facebook's ambitions in more ways than one, and marks a dividing line that in some ways is functional (There was Facebook before Timeline, and then there's Facebook after Timeline) but is in a larger sense generational. The assumption underlying Timeline is that, well, of course one's whole life is available to be parsed, laid out (and, not for nothing, data-mined) on Facebook. This reflects in a clear and direct way some attitudes toward data that just didn't exist before Facebook, chief among them this: The info-bits that make up a life are a substantially public commodity.

The news isn't that Facebook has figured out a new way to package your life and present it back to you. The news is that no one blinks at the notion of a giant company being the custodian of your memories. At least that's what Facebook is banking on. Timeline is your life, their way.