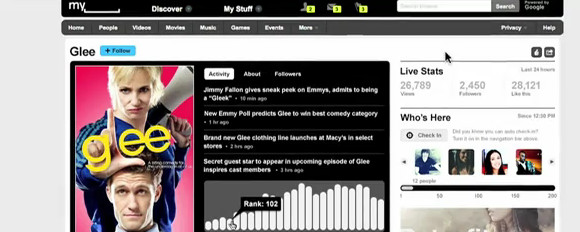 A big budget redesign of MySpace has started rolling out, as the planet's former number one social networking site tries to claw back some of its rapidly evaporating traffic.
Curated for you
The new look MySpace serves up a totally overhauled design reflecting a hefty shift in focus, with the site aiming to become the "leading entertainment destination that is socially powered by the passions of fans and curators."
Aimed squarely at a 13 to 35-year-old demographic – jog on, Pops – the new look MySpace comes stuffed with all the Twitter/Facebook integration you could hope for, plus 'entertainment trends'  and 'curators bringing you the best of new things,' whatever that means.
The rollout to users is likely to take until the end of November, with MySpace hoping that its costly revamp will turn the site into the numero uno "social entertainment destination."
With MySpace losing half of its traffic over the past year, it seems the only way is up for the beleaguered site.
Or maybe further down, of course.