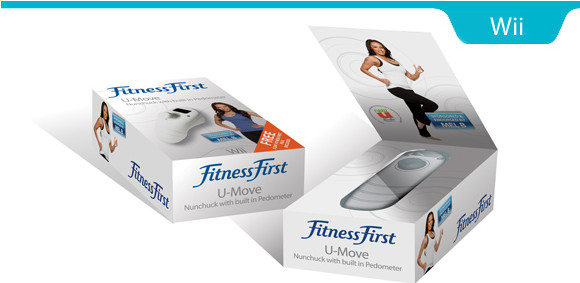 As the evil LibDem/Tories series of ruthless cuts continue to bite into Brits' threadbare wallets, more folks are abandoning expensive gym memberships and choosing to fire up the Wii instead.
Spice up your Wii
Keen to retain a slice of the action and thrust a bit of branding into the home, UK health club chain Fitness First has teamed up with Blaze to create the U-Move Wii controller with built in pedometer, approved by (ahem) 'global superstar' Mel B.
A Nunchuk replacement with built-in pedometer, the U-Move works with most top action games, letting users control how fast characters move by constantly moving .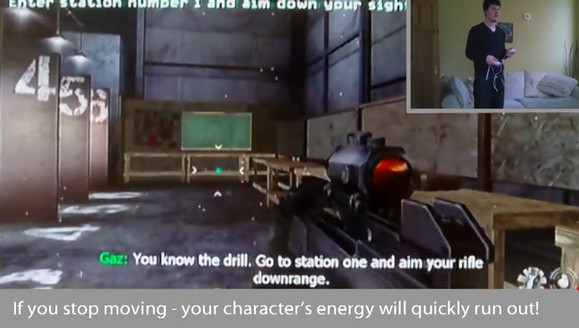 Here's how they describe the technology:
When using the U-Move controller you are required to move (by either jogging on the sport or by moving your arms around) to generate "energy" for your on-screen character – when you aren't "moving" your thumb stick becomes "disabled" and your character will stop moving! In effect, you become part of the game and need to "run" if you want your character to run!
You can bag the controller on Amazon now for around £18 upwards: Fitness First -U- Move Motion Nunchuk Controller with built-in Pedometer (Wii)
Press Release
BLAZE and Fitness First release "U Move"  A new level of exercise interactivity for your Nintendo Wii, with the endorsement of global superstar Mel B

BLAZE reveals the most exciting way to exercise yet – U-Move Gaming!

It has been known for a long time that hours spent sitting in front of your games console is not the best way to stay in shape. This has all changed recently with the release of numerous fitness titles bringing good health and gaming much closer together.

Today, the next level of exercise interactivity has now arrived. BLAZE, with the help of Fitness First and healthy living advocate Mel B, have released the U-Move controller with built in pedometer. The U-Move gives you the chance to play and interact with most top action games available currently for the Nintendo Wii, you control how fast your character moves by simply moving yourself. Motion sensors within the U-Move controller detect whether you are sprinting, jogging or walking on the spot, without the need for any separate hardware. Your movement is then translated directly into the game, with direction and action functions staying the same as you are used to, but if you want your character to move, you've got to do the leg work!

The U-Move is also compatible with most dedicated fitness titles should you want the full Nintendo Wii exercise experience, including WiiFit,  WiiFit Plus, NewU, EA Sports Active and other interactive fitness games.

You will feel especially pleased with yourself when you check the U-Move's built in pedometer after your gaming session. This tracks your total number of steps you have taken during game play and also gives you a read out of the amount of calories you have just burnt off. This special feature allows you to keep track of your progress, and gives a clear indication of how your video games, together with U-Move, can help you keep fit and active.

Of course, If it all gets a little too much you can set the controller into "normal" mode (or what we call "cheat" mode!), and the U-Move will have the same function as your regular controller, giving you the time to get your breath back.

Price: £19.99
Here's a list of games that work with the controller:
• Call Of Duty (see "Blaze UMove" video on YouTube)
• Pro Evolution Soccer (see "Blaze UMove" video on YouTube)
• Super Mario Galaxy 2 (see "Blaze UMove" video on YouTube)
• Donkey Kong Country Returns
• Golden Eye 007
• NHL 2011
• Star Wars: The Force Unleashed 2
• FIFA 2011
• NBA Jam
• The Lord of The Rings Aragon's Quest
• Resident Evil 4
• The Legend of Zelda: Ocarina of Time
• The Legend of Zelda: Twilight Princess
• Metroid Prime 3
• and ANY other Nintendo Wii game which uses the thumb stick to control movement

As well as all Wii fitness games such as:
• Wii Fit
• Wii Fit Plus
• New U
• EA Sports Active
• and any other interactive fitness games which utilize the thumb stick controller