It seems like every week we're posting up news about the continuing growth of Google's Android OS, and the latest figures reveal that it's leaving Apple behind in the dust.
Android's on a speedboat, Apple's on a pedalo
New research from stat boffins Comscore reveals Android surging ahead of the pack with an astonishing 7 point market share growth in the US smartphone market over the past three months.
The news wasn't so good for Blackberry fans with RIM's market share slumping by over 5 points over the same period.
Dead in the water
Although Apple's share increased slightly, BusinessInsider noted that it had fallen so far behind Android as to be "dead in the water," with a market share of just 25 per cent.
By comparison, Android has bagged itself a third of the US market (33 per cent), while RIM has seen its once dominant share crash to 29 per cent.
Microsoft's Windows Phone 7 fell from 9 per cent to 7.7 per cent, while Palm – bless 'em – continue their slide into obscurity, falling another point to 2.8 per cent.
Apple fans be afraid. Very afraid
BusinessInsider argues that Apple fans "should be scared to death" of Android gains, drawing comparisons with the PC vs Mac wars of the 1990s, where Apple was unable to compete against a software platform that had become standardised across many hardware manufacturers.
The damning stats from Comscore:
First up, here's the US Handset Share stats for February 2011: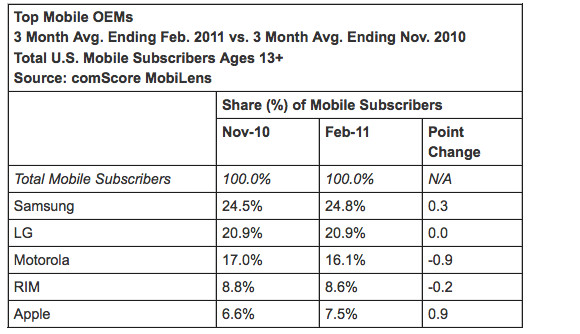 And here's the all-important figures for US smartphone share:
What's your take?
Is Apple really dead in the water? And is it going to be Android all the way from now on?
Tell us what you think by adding a comment below!
[Source: BusinessInsider]