There's already been versions made available for the iPhone, Android phones and BlackBerry (in beta), and now Palm webOS users can install their own app and get stuck into the location-sharing service Foursquare.
The beta version works on Palm Pre and Palm Pixi phones, and offers a more practical alternative to trying to access the Foursquare site via the handset's web browser (every time we tried we got parsing errors and pages that wouldn't load).
The webOS app offers a rather attractive and easy to use interface, although we were alarmed to see it weighing in at  positivity lardy 9MB.
This hefty bulk will make things difficult for UK users still waiting for the webOS v1.3.5 upgrade which gets rid of the current annoying application storage limit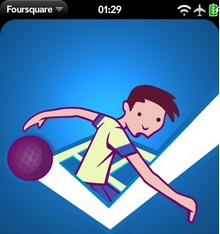 A bit buggy
There's no disguising that this is a beta app, with slow loading screens and a slew of annoying bugs (and no city leaderboards feature), but if you're a fan of Foursquare it's a good enough start, and a healthy sign that the fledgling webOS platform is being taken seriously.
If you've no idea what Foursquare is, here's their description of the service:
Think: 50% friend-finder, 30% social cityguide, 20% nightlife game. We wanted to build something that not only helps you keep up with your friends, but exposes you to new things in and challenges you to explore cities in different ways. There's a lot of experimenting here, so bear with us as we try to figure it all out (and thanks!)

Read more here.
The Foursquare app can be downloaded for free from the webOS App Catalogue.

Still befuddled?
If you're still baffled by what the thing is all about, our friends at PocketLint describe it better than we could:
What is foursquare?

In a nutshell, it's a location service-based social network-come-game. What it does in effect is to tell you where your friends are and add a little fun to going out in the evening. It's like Google Lattitude meets a little bit of Facebook, a touch of Twitter, a dash of Qype and even a twist of World of Warcraft. And if that's not a cocktail for hopeless addiction, then we're not sure what is.

How does it work?

The whole system is based around what is known as "checking-in". You check-in from bars and restaurants and any kind of nightspot or watering hole, perhaps with a little message about where you are and what you're doing – all very brief – and the system will then register what you're up to.

People who you're friends with will then get pinged a message to let them know your whereabouts and activities, and the idea is that they can then join you if they fancy or just be pleased that you're out having a good time. From the other side of things, if you're out on your own somewhere, suddenly mateless in town or stuck at home and bored, you can see where everyone's at and get yourself down to the party.

All pretty simple. The other two things you can do are create a to-do-list of places you've always wanted to go and add to a Top 12 list of your recommendations for other people…
Read more: [Pocket Lint]