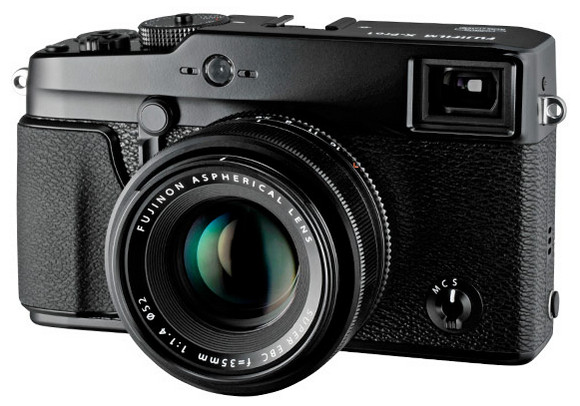 The stunning new Fujifilm X-Pro1 camera – and its accompanying trio of X system lenses – have just been officially announced, and the Wirefresh office is currently afloat in raging torrents of want-saliva and desire-dribble. And that's not a sight you'd like to see.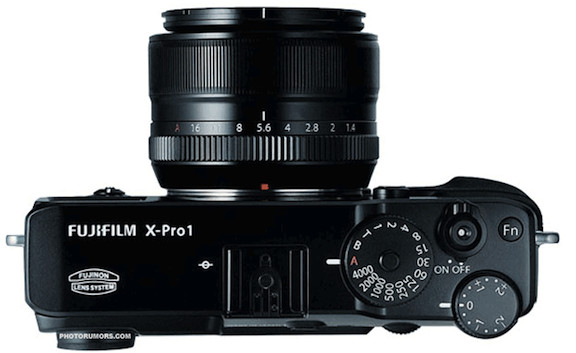 Packing a cutting-edge sensor and packed in a traditional rangefinder styled body, this is a camera that looks like it could mix it with the best Leica has got to offer.
Lenses
The camera is launching with three prime lenses, 18mm f/2 (27 mm equivalent), 35mm f/1.4 (53 mm equivalent) and 60mm f/2.4 macro (90 mm equivalent), and these all have manual aperture rings, so exposure can be set by using the top shutter speed dial together with the aperture ring.
The camera also features a new image processing engine – the EXR Processor Pro – which promises to deliver high-speed shooting capabilities of up to a speedy 6fps.
Best of all, the X-Pro 1 comes with Fujifilm's astonishingly clever hybrid optical/electronic viewfinder that brings true rangefinder shooting possibilities.
"It's dedicated to professional users who don't have a compact system camera that they can trust. We believe this is the first compact camera that will really appeal to professionals that are conscious about sensor quality. We also wanted to release something that unique and different from what others are doing in the market."
And if all that wasn't amazing enough, Fujifilm is claiming it that their newly developed sensor will out-resolve the full frame 21MP Canon EOS 5D Mark II dSLR.
The folks at DPreview got an early hands on preview of the camera and took a snap comparing the X-Pro 1 with Fujifilm's X100 (on the left) and X10 (on the right).

As you can see, it's a beefy camera alright, and measures up around the same size as a Leica M9.
Here's the standout features of the X-Pro 1:
Fujifilm-designed 16MP APS-C X-Trans CMOS sensor
Unique colour filter array designed to suppress colour moiré,
No optical low-pass filter
EXR Processor Pro image processor
Dual-magnification hybrid optical / electronic viewfinder
Analogue dials for shutter speed and exposure compensation on top of camera
All-new, fully electronic X lens mount; 17.7mm flange-to-sensor distance
Three 'XF' lenses at launch: XF 18mm F2 R, XF 35mm F1.4 R, and XF 60mm F2.4 R Macro
Prime lenses have traditional-style aperture rings (1/3 stop increments) and large manual focus rings
Updated and improved rear-panel control layout
On-screen 'Q' control panel and redesigned tabbed menu system
Focal-plane shutter, 1/4000 sec max speed
3.0″ RGBW 1.23K dot LCD.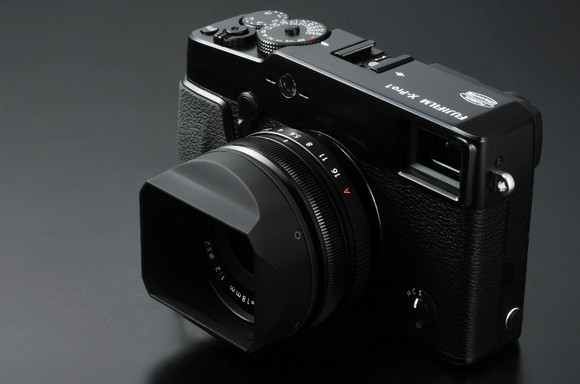 Pricing details. Ouch!
Not surprisingly, all this photographic  dreamboatery comes at a price that will sink the hearts of many photographers, with pricing expected to hover around £999 for the body only, with the lenses available from £450 to £500.
Here's the full press release:
FUJIFILM X-Pro1- featuring the new X-Trans CMOS sensorTM and an FUJIFILM original X-Mount and Hybrid Multi Viewfinder

FUJIFILM Corporation (President and CEO: Shigetaka Komori) are proud to announce the FUJIFILM X-Pro1, an all-new interchangeable lens camera system. The X-Pro1 features a 16 megapixel APS-C X-Trans CMOS sensorTM, a brand new X lens mount, Hybrid Multi Viewfinder and three prime lenses.

Key Features

Setting new standards in image resolution

FUJIFILM have developed a new CMOS sensor called the X-Trans CMOSTM. The X-Trans CMOSTM sensor is capable of delivering resolution that is parallel, if not superior, to a full frame sensor.

The new colour filter array paves the way for an ideal sensor that does not need an optical low-pass filter. While the optical low-pass filter is indispensable for the reduction of moiré and false colour generated by conventional sensors, it also degrades resolution. FUJIFILM has developed a new colour filter array that is inspired by the random arrangement of fine film grain, removing the need for an optical low-pass filter to solve moiré and false colour issues. In the array, RGB pixels are arranged in 6×6 pixel sets with high aperiodicity. Increasing the degree of randomness eliminates the fundamental cause of moiré and false colours – a problem that occurs in conventional arrays when shooting stripes and other repeating patterns. The presence of an R, G and B pixel in every vertical and horizontal pixel series minimizes the generation of false colours and delivers higher colour reproduction.

EXR Processor Pro – As a result of using a film-inspired array, a more powerful processor is required to process the image signal data. So FUJIFILM have created the EXR Processor Pro. This development will maximise the full potential of the X-Trans CMOSTM sensor and deliver high speed and high precision image processing.

Prime FUJINON XF lenses deliver the highest image quality

Fujinon lenses have long been associated with delivering high quality images, with optics used for both broadcast TV and medium format cameras. Now the expertise borne out of this enviable optical heritage has been put into lenses for the FUJIFILM X-Pro1

Three compact XF Fujinon fast aperture prime lenses will be available at launch. The "XF18mmF2 R", "XF 35mmF1.4 R" and "XF60mmF2.4 R Macro" all offer precise control over depth-of-field and deliver excellent out-of-focus bokeh thanks to the design of the moulded aperture diaphragm blades. The blades are curved to create a circular image at all aperture settings, while the very edges of each blade are meticulously rounded off rather than simply cut off, which delivers a sharper image. In addition, the solid feel of the high-quality metal barrel and detailed exposure setting in 1/3 step increments using the aperture ring fuel your desire to capture more photos with every shot.

FUJIFILM original "X-Mount" maximises lens performance

Specifically designed to maximise the mirror less design of the body the X-Mount has a short flange back distance of just 17.7mm. This means the rear lens elements are as close as possible to the sensor. The wide opening allows the lens to be mounted deeper within the body – up to 7.5mm (approx) from the mount surface – reducing the back focus distance of each lens to the minimum possible, thus achieving high resolution all the way to the edge of the image

Hybrid Multi Viewfinder – seeing is believing

FUJIFILM's revolutionary Hybrid Viewfinder first appeared in the X100. With its ability to instantly switch between an Optical Viewfinder and Electronic Viewfinder the Hybrid Viewfinder has added a new dimension to the pleasure of composing photographs. For the brightest viewing image, and to keep shutter lag to a minimum, users should choose the Optical Viewfinder. Those wanting focus confirmation, exposure information, white balance information and depth of field indicators should switch to Electronic Viewfinder.

The Electronic Viewfinder provides an excellent "Live View" of your composition. This fusion of technologies allows users to enjoy composing their images through a bright viewfinder, but has the option to overlay vital picture taking information should this be required.

Changing between the two viewfinders is simple, thanks to the switch on the front of the X-Pro1 body. When attaching a FUJINON XF-series lens on X-Pro1, both the viewfinder magnification and bright frame size automatically switch to support the lens focal length. Viewfinder magnification switches to 0.37x for the 18mm lens, and to 0.60x when the 35mm or 60mm lens is mounted, letting you compose your shot with the bright, crystal clarity of an optical image. The X-Pro1 also gives you the freedom to manually set a focal distance and switch between viewfinder magnifications.

Cutting-edge technology in a beautiful camera body

The top and base are made from die-cast aluminium alloy which, combined with high quality touches like precise engraving on the top-plate and hand-enamelled lettering on the lenses, underlines the fact that the entire X-Pro1 system is built without compromise.

This eye for detail extends to the shutter speed dial and exposure compensation control that is precision milled from solid metal. Details like the shutter speed dial lock mechanism and the recessed exposure compensation dial are designed to prevent accidental movement of settings. The knurled finish on the sides of the dials feature rows of minutely milled squared pyramids for superb grip and confidence.

"Made in Japan" confirms that every part of the construction has had to meet FUJIFILM's highest standards. The lightweight, precision-milled lens hood (included with the lens) has been exclusively designed and machined from aluminium for the FUJINON XF lens. Its compact size delivers superb light shading performance in a design that perfectly matches X-Pro1 styling.

Diameters of the aperture ring and focus ring of the 3 Fujinon XF-series interchangeable lenses are only slightly larger than the barrel for sleek uniformity of design. Precision machined from metal, the reassuring click of the aperture ring at each setting and the comfortable torque resistance when operating the focus ring enhances the shooting experience.

The X-Pro1's leather-like finish designed for a quality look and durability. The synthetic leather offers resistance to the elements and high durability, while an original manufacturing process produces a texture with the look and feel of authentic leather.

The X-Pro1 has been designed with the photographer's comfort in mind. The natural fit of the eyepiece provides excellent shielding from light leakage. A dioptric adjustment lens can also be attached.

Extending FUJIFILM's photo film legacy

In film cameras, multiple exposures is the unique photographic technique of superimposing one image on another by double exposing a single frame of film. Through advanced digital processing the X-Pro1 can simulate this technique – just select Multiple Exposure mode and take your first shot. By viewing it in the Hybrid Multi Viewfinder or on the LCD screen, you can see how the finished multiple exposure will look and precisely frame the second shot.

Further enhancements have been made to the Film Simulation modes with the new Professional Colour Negative Film Modes (Pro Neg. Std and Pro Neg. Hi) designed for X-Pro1 users working in the studio. If you'd like to shoot the same scene in a variety of Film Simulation modes, the X-Pro1 offers Film Simulation bracketing, along with AE, Dynamic and ISO bracketing.

FUJIFILM has also included Film Simulation modes, where the X-Pro1 simulates the colours and tonal qualities of popular FUJIFILM emulsions. These include the vibrant colours of Velvia, the softer skin tones of ASTIA and the natural look of PROVIA.

Enhance Monochrome Expression with Colour Filters – Replicating the effects of monochrome film photography the X-Pro1 lets you use colour filters to expand your photographic interpretation. Heighten contrast with the yellow filter and red filter or brighten greens and deepen reds with the green filter. Just as professional film photographers once selected a filter and printing paper to complement their creative vision, you can easily fine tune image quality with these filters. For those after a more nostalgic theme there's a sepia filter too.

Premium Accessory Lineup

Hand Grip, HG-XPro1 (sold separately) – Giving you more secure and balanced handling of the camera, the X-Pro1 accessory grip smoothly moulds to the lines of the camera body for a uniform look. The grip helps balance the weight of the camera body, allowing for a more comfortable hold.

Shoe Mount Flash EF-X20 (sold separately) – Being designed to match X-Pro1's distinctive styling. One dial lets you choose between two modes: AUTO – automatically optimizes flash for both outdoor daylight and dark indoor shots; MANUAL – for hands-on control. In addition, the built-in flash diffuser has an easy one-touch operation to soften harsh flash effects.

Leather Case LC-XPro1 (sold separately)* – Beautifully moulded to protect the X-Pro1, leather case is designed to allow fast access for easy shooting. Attention has been given to every detail, from the colour and spacing of the stitches to the adoption of a hidden magnet rather than a snap for closing the case. The premium case is completed by the inclusion of the authentic leather neck-strap and hood case.

Protector Filterφ39mm and Protector Filterφ52mm – This is a protection filter with high transmissivity without affecting the visible light. The Super EBC (Electron Beam Coating) of these would control harmful borrowed light effectively. The frame of filter given the semi-gloss black coating fits a high sense design. Or the inner side of filter given the matt black coating restrains a reflection effect and does design well.

*Case not suitable for FUJINON XF60mm lens
Fujifilm X-Pro1 Specifications
Body type
Body type
Rangefinder-style mirrorless
Sensor
Max resolution
4896 x 3264
Other resolutions
4896x2760,264 × 3264, 3456x2304, 3456x1944, 2304 × 230, 2496x1664, 2496x1408 , 1664 × 1664
Image ratio w:h
1:1, 3:2, 16:9
Effective pixels
16.3 megapixels
Sensor size
APS-C (23.6 x 15.6 mm)
Sensor type
EXRCMOS
Processor
EXR
Colour filter array
Primary colour filter
Image
ISO
Auto (400), Auto (800), Auto (1600), Auto (3200), 100, 200, 250, 320, 400, 500, 640, 800, 1000, 1250, 1600, 2000, 2500, 3200, 4000, 5000, 6400 (100, 12800, 25600 with boost)
White balance presets
7
Custom white balance
Yes (1)
Image stabilization
No
Uncompressed format
RAW
JPEG quality levels
Fine, Normal
File format

JPEG (Exif 2.3),
RAW (RAF format)
RAW+JPEG

Optics & Focus
Autofocus

Contrast Detect (sensor)
Multi-area
Center
Single
Continuous
Live View

Autofocus assist lamp
Yes
Digital zoom
No
Manual focus
Yes
Lens mount
Fujifilm X
Focal length multiplier
1.5×
Screen / viewfinder
Articulated LCD
Fixed
Screen size
3″
Screen dots
1,230,000
Touch screen
No
Live view
Yes
Viewfinder type
Electronic and Optical (tunnel)
Viewfinder coverage
100 %
Viewfinder magnification
0.37×
Photography features
Minimum shutter speed
30 sec
Maximum shutter speed
1/4000 sec
Exposure modes

Programmed
Shutter priority
Aperture priority
Manual exposure

Built-in flash
No
External flash
Yes (via hot-shoe with EF-20, EF-42, EF-X20)
Flash modes
Auto, On, Off, Red-Eye, Slow Sync, Rear-curtain
Flash X sync speed
1/180 sec
Drive modes

Single
Continuous
Self-timer

Continuous drive
Yes (6 fps)
Self-timer
Yes (2 or 10 sec)
Metering modes
Exposure compensation
±2 EV (at 1/3 EV steps)
AE Bracketing
(at 1/3 EV, 2/3 EV, 1 EV steps)
WB Bracketing
No
Videography features
Format
Microphone
Stereo
Speaker
Stereo
Resolutions
1920 x 1080 (24 fps), 1280 x 720 (24 fps)
Storage
Storage types
SD/SDHC/SDXC
Connectivity
USB
USB 2.0 (480Mbit/sec)
HDMI
Yes (Mini connector)
Wireless
None
Physical
Environmentally sealed
No
Battery
Battery Pack
Battery description
Lithium-Ion NP-W126 rechargeable battery & charger
Battery Life (CIPA)
300
Weight (inc. batteries)
450 g (0.99 lb / 15.87 oz)
Dimensions
140 x 82 x 43 mm (5.51 x 3.23 x 1.69″)
Other features
Orientation sensor
Yes
Timelapse recording
No
GPS
None