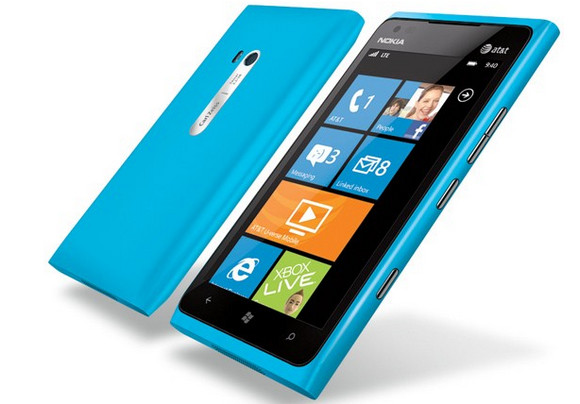 Nokia have announced their new Nokia Lumia 900 smartphone, and it sure does look a mighty purdy thing, packing a 4.3-inch ClearBlack AMOLED 800 x 480 capacitive touchscreen and 512MB RAM, all running on Windows Mobile Mango.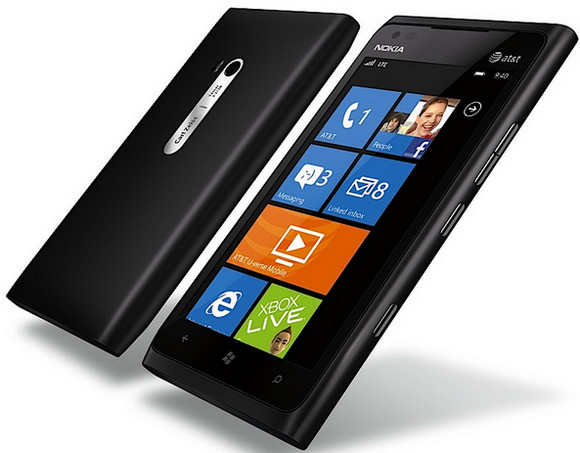 Two cameras
There's two cameras onboard:  an 8-megapixel camera on the back strutting a high quality 28mm f/2.2 Carl Zeiss lens with dual-LED flash, while on the front there's a f/2.4 wide-angle lens for your video gurning pleasure.
The design is an eye-catching, brightly coloured polycarbonate affair, while inside can be found a single-core 1.4GHz Qualcomm Snapdragon CPU keeping things moving.
The beefy 1840mAH battery promises seven hours talk and 300 hours of standby, while the built-in LTE modem should serve up generous helpings of super fast internet on AT&T's 4G LTE network.
No news for Brits
There's been ne'er a peep out of Nokia regards pricing yet – or availability on other networks –  although it's been said that the costings will be "aggressive," whatever that means.
Too late?
It's certainly a delightful looking thing, but given Nokia's current circumstances, we'd be hesitant to declare it a sure-fire winner – do consumers really want to commit to another mobile OS with Android and iOS now so commonplace?
The press release waffle is coming right up after the video promo:
Nokia and AT&T introduce the new Nokia Lumia 900 on AT&T's 4G LTE network

First Nokia smartphone designed specifically for the US features LTE, large display and exclusive applications

Las Vegas, US – Today at the 2012 International Consumer Electronics Show (CES), Nokia and AT&T announced the Nokia Lumia 900, the first of Nokia's Windows® Phone-based range to feature high-speed LTE* connectivity. With Nokia's largest display, the Nokia Lumia 900 delivers a rich content experience from a phone that still fits easily in your hand.

Coming exclusively to AT&T in the coming months in cyan and matte black, the Nokia Lumia 900 has a 4.3-inch AMOLED ClearBlack Display for rich, bright images both indoors and out, faster connection speeds based on cutting-edge 4G LTE technology, and a long-lasting 1830 mAH battery for enjoying content all day.

The primary camera includes Nokia's exclusive Carl Zeiss optics, with large aperture (F2.2) and wide angle focal length (28mm) for high-quality, uncropped images even in low-light conditions. In addition, the Nokia Lumia 900 includes a front-facing camera boasting a large aperture and a wide angle lens that ensures sharp, bright images for high-quality video calling, right out of the box

Nokia's third Lumia smartphone, the Nokia Lumia 900 builds on Lumia's head-turning design on the outside and a rich social and Internet experience on the inside. People Hub is the quickest way to connect with friends with Live Tiles for real-time updates and a fast Web browsing experience with Internet Explorer Mobile.

"The introduction of the Nokia Lumia 900 with AT&T is another significant milestone in the ongoing rollout of Nokia's global smartphone strategy," said Chris Weber, president of Nokia Americas. "The Nokia Lumia 900 is designed specifically with the US in mind and the announcement of this collaboration with AT&T, in addition to other recent announcements, signifies a new dawn for Nokia in the US."

The Nokia Lumia 900 benefits from a range of leading content experiences:

– The AT&T U-verse Mobile** app lets U-verse TV subscribers browse the U-verse TV program guide, schedule and manage their DVR recordings, and watch hit TV shows while on the go. The U-verse Mobile library includes more than 100 TV series and more than 700 TV shows from a variety of genres.

– Nokia Drive, available to download from Windows Phone Marketplace, provides free voice-guided, turn-by-turn navigation with a dedicated in-car user interface that turns the Nokia Lumia 900 into a GPS navigation device.

– The exclusive ESPN sports hub is pre-loaded on Nokia Lumia smartphones, and provides a one-stop sports application for news, videos and scores.

– The CNN App for Windows Phones provides the latest news and video from CNN's reporting around the globe and direct access to iReport, CNN's participatory news community. Launching globally for free in the next month, the CNN App will be exclusive to Nokia users for 90 days.

– The Univision App will be exclusive to Nokia Lumia users in the U.S. and Puerto Rico for 18 months, delivering unique and exclusive Spanish-language content experiences, including Univision entertainment, sports and soccer coverage, plus news, cooking and local content for different U.S. markets – all in one App.

– A partnership with EA to bring over 20 of the world's most popular games to the Windows Phone marketplace, coming first to Nokia Lumia devices.

"Nokia and AT&T worked hand in hand to bring the Nokia Lumia 900 to market. Our powerful 4G network really amplifies the benefits of the Nokia Lumia 900. Sharing high quality images and videos with its integrated social networking functions is faster than ever; content from U-verse Mobile is more enjoyable on the crisp 4.3-inch screen, and with its huge battery people can do more without worrying about recharging," said Jeff Bradley, senior vice president of devices for AT&T. "Together, we are working to supercharge the ecosystem around the Nokia Lumia 900 and the Windows Phone platform."