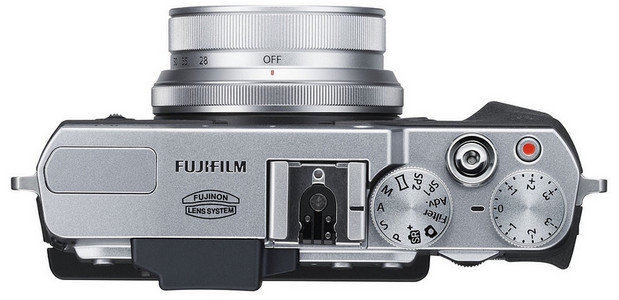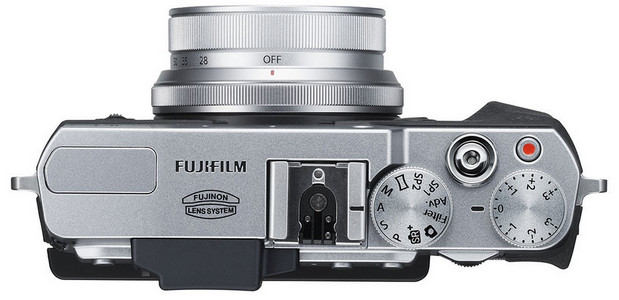 Fujfilm has thrown down its latest enthusiast compact snapper, the X30, which hopes to catch the eye of photographers with its old school looks, manual controls. modest 2/3″ X-Trans II CMOS sensor and speedy 28-112mm equivalent F2.0-2.8 lens.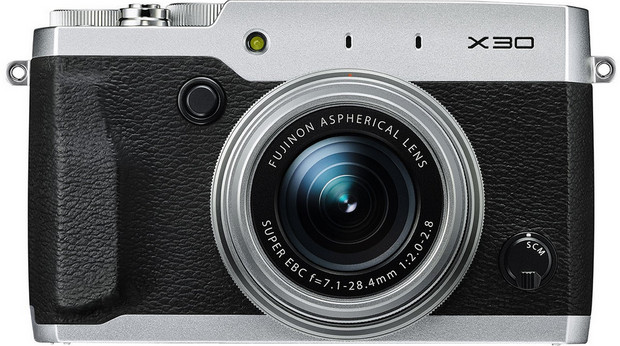 The camera improves on the earlier X20 by including a larger, tilting 3″ LCD, an XGA OLED Real Time Electronic  Viewfinder, Wi-Fi,  plus a handy control wheel located around the lens. Fujifilm says that the camera also has a greatly improved battery life.
The X30 will be available this month, priced at £479/$599.95 and available in black and silver/black finishes. It certainly looks delightfully retro, but with no improvement in sensor size, we can't see much encouragement for X20 owners to upgrade.
Scroll down for the full press blurb and more details:
Fujifilm UK Press Release

A stylish, premium compact camera featuring innovative Real Time Viewfinder

FUJIFILM X30 delivers premium performance

Fujifilm releases the ultimate premium compact camera with class-leading functionality, superb design, enhanced battery performance and unrivalled image quality

FUJIFILM Corporation (President: Shigehiro Nakajima) is proud to announce the launch of the new FUJIFILM X30 premium compact digital camera. Now in its third generation, the X30 replaces the FUJIFILM X20 and features an innovative viewfinder along with new functions and improvements that make it a joy to use.

The X30 features the newly-developed Real Time Viewfinder – which is the largest, fastest and highest resolving viewfinder in its class(*1) – a large 2/3-inch X-TransTM CMOS II sensor(*2) (12 megapixel with no optical low pass filter), EXR Processor II image processing engine and a new 'Classic Chrome' film simulation mode. Further additions include a new control ring along with extra dials and function buttons for more control and a tilting 3.0-inch 920K-dot premium clear LCD monitor. Battery performance has also been improved, with the X30 capable of shooting approximately 470 photos(*3) on one charge thanks to a capacity approximately 1.8 times greater than that of previous models and a new, energy-saving design.

Two colour options will be available: black or silver.

Main Features

(1) Real Time Viewfinder

With a magnification of 0.65x(*4) and a display lag time of just 0.005sec.(*5), the X30 has the largest and fastest viewfinder in its class. It offers a clear, high-definition Live View thanks to the new 2.36M-dot organic EL electronic viewfinder and newly-designed dedicated lens, plus visibility has been improved by automatically controlling finder brightness according to the ambient light levels. The Live View display can also be set the 'Preview Pic. Effect' function to reflect shooting conditions or offer a natural view close to what is seen with the naked eye, while the viewfinder's eye sensor will also automatically switch the visible information when the camera is positioned vertically; something that was not possible with the previous model's optical viewfinder.

(2) Manual zoom and control ring, two dials, six function buttons and a tilting LCD

A new control ring positioned behind the manual zoom control allows the immediate change of aperture settings and shutter speed while fine-tuning composition. Functions such as ISO sensitivity, film simulation, white balance and continuous shooting can be assigned by pushing the control ring setting button at the front. Two top-plate dials and six function buttons positioned on the back of the body also offer faster access to regularly-used features for a more instinctive operation, while the 3.0-inch 920K-dot premium clear LCD monitor can be tilted so shooting can be enjoyed from any angle.

A light but strong magnesium alloy is used for the top and bottom of the body. Metal rings milled from aluminum are used for the lens, while the large 3 dimensional rubber grip fits well in the hand and enhances overall operation.

(3) Long-lasting battery

The NP-95 battery has a capacity approximately 1.8 times greater than that of past models. Couple this with a low energy-consumption design due to system optimization and the X30 enables shooting of up to approximately 470 photos with one charge. By using the supplied micro USB cable, the camera can also be charged anytime and anywhere without a battery charger.

(4) X-TransTM CMOS II sensor

The X30 features a 2/3-inch X-TransTM CMOS II sensor which has a unique, random pixel array to control moiré and fake colors without needing an optical low-pass filter. Since the low-pass filter – which would cause a drop in image quality – is not required, light from the lens goes straight to the sensor to deliver excellent resolution and low noise.

Fujifilm's renowned image quality, produced through the development of photographic films, helps to reproduce warm skin tones, bright blue skies and rich green trees in beautiful colors, just as they were in the actual scene. And the X30 features the unique 'Lens Modulation Optimizer' image processing technology which maximizes lens performance by correcting optical effects such as diffraction based on optical performance and characteristics of each lens setting.

(5) World's fastest(*6) high-speed AF at 0.06sec.

A combination of the X-Trans CMOS II sensor with phase-detection AF and the EXR Processor II processing engine means the X30 delivers a high-speed performance, along with high resolution and low noise. The phase-detection system focuses in just 0.06sec but the camera will automatically switch to contrast AF according to the subject and scene, so high-speed and high-precision AF is guaranteed on any scene. A startup time of 0.5sec.(*7), shutter time lag of 0.01sec., and shooting interval of 0.3sec. also mean that users will never miss a photo opportunity. And High-speed continuous shooting of 12fps (18 frames continuously during JPEG shooting) at full resolution is possible.

(6) High precision F2.0-2.8 28mm(*8) -112mm(*8) 4x manual barrel zoom lens

Fujifilm's designers have paid incredible attention to detail when designing the X30's high precision lens. It is made up of 11 glass elements in nine groups, including three aspherical lens elements and two ED lens elements. The result is an ultra-bright lens with a wide-angle maximum aperture of f/2.0 and telephoto maximum aperture of f/2.8. FUJINON's proprietary HT-EBC is applied to the elements to effectively control flare and ghosting.

The optical 4x manual zoom lens allows quick, precise control over composition. The use of metal for the lens barrel and its internal structures provides a really smooth zooming action, while the Super Macro mode allows you to get as close as 1cm from your subject for stunning close-up shots.

The X30's unique image stabilization mechanism shifts five lens elements to compensate for camera shake by up to 3.0 stops(*9), it also effectively prevents motion blur while stopping vignetting and loss of image resolution that usually occurs during camera shake compensation.

Additionally, the X30's lens incorporates seven diaphragm blades which enable you to create a beautiful soft 'bokeh' effect to make your subject stand out from the background.

(7) Perfect your color photos with Film Simulation and artistic photography

Fujifilm's unprecedented image quality has been cultivated through the development of photographic films over the past 80 years and helps to reproduce warm skin tones, bright blue skies and rich green trees, just as photographers remember the scene. The X30 features the new, 'CLASSIC CHROME' film simulation mode, which delivers muted tones and deep color reproduction. Users can choose from ten different modes that simulate the effects of traditional Fujifilm films. These include color reversal film effects (Velvia / PROVIA / ASTIA/CLASSIC CHROME), professional color negative film (PRO Neg.Std / PRO Neg.Hi), monochrome filters (MONOCHROME, Ye filter, R filter and G filter) and SEPIA.

NEW Classic Chrome

Also available on the X30 are the Advanced Filter functions; users can choose from eight different artistic effects:

Pop Color – Emphasizes contrast and color saturation.

Toy Camera – Creates shaded borders as if you were taking a photo on a toy camera.

Miniature – Adds top and bottom blur for a diorama or miniature effect.

Dynamic Tone – Creates a fantasy effect by boosting tones.

Partial Color – Retains one selected original color and changes the rest of the photo to black & white. Colors can be selected from red, orange, yellow, green, blue and purple.

High Key – Enhances brightness and reduce contrast to lighten tonal reproduction.

Low Key – Creates uniformly dark tones with few areas of emphasized highlights.

Soft Focus – Creates a look that is soft throughout the whole image.

A separate Multiple Exposure function offers users the chance to combine two separate subjects into one photo, perfect for adding people into photos that they had missed.

The camera's aspect ratio can be selected from 4:3, 3:2, 16:9, and 1:1 (square) to accommodate a wide range of photographic styles. The camera also features an ADVANCED SR AUTO mode, which recognizes faces and every scene type from still portraits to landscapes and even motion to automatically optimize the focus, exposure, ISO and other settings. And interval timer shooting for Time Lapse photography is available with intervals of one second to 24 hours and up to 999 frames.

(8) Full HD movies

・ 60fps smooth Full HD movies can be shot with the X30. 50fps, 30fps, 25fps and 24fps frame rates can also be selected.

・ Film simulation modes, including the new 'Classic Chrome' and detailed setting of white balance, are also possible.

・ Manual exposure can also be set during movie shooting. Aperture, shutter speed(*10) and ISO sensitivity can be set, and movies can be shot at an exposure of the user's preference.

・ High-speed, high-precision focusing is made possible by activating Intelligent Hybrid AF, which switches between phase-detection AF and contrast AF according to scene, even during movie shooting. Manual focus is also possible.

・ Six types of scene recognition functions can be used, or it can be left up to the camera to shoot beautiful movies.

・ A high bit rate of 36Mbps enables clear capture of delicate movements.

(9) Enhanced wireless functions

・ Free FUJIFILM Camera Remote application and Wireless Communication function allows users to remotely shoot images from smartphones and tablets.

・ Wireless functions via the FUJIFILM Camera Remote app include Touch AF, shutter release for stills and movies, shutter speed, aperture, exposure compensation, ISO sensitivity, film simulation modes, white balance, macro, timer and flash.

・ Instant transfer and location tagging of images via your smartphones and tablets(*11).

・ Wi-Fi transfer(*12) also enables wireless backup of the data in the camera onto the computer(*13).

(10) Premium accessory line-up

・ NEW Leather case LC-X30 – made of premium genuine leather.

・ Lens Hood and Protector Filter LHF-X20 – a highly transmissive protection filter with Super EBC multi-layer coating technology. Available in black or silver to match the color of the camera body.

・ Lens Hood LH-X10 – Adapter ring and lens hood set, which allows the use of the 52mm-diameter filter. The hood has a classical slit.

・ Shoe Mount Flash – three types of FUJIFILM external flash, capable of high-precision TTL auto flash control: EF-20 and EF-X20 with the guide number 20, and EF-42 with the guide number 42

・ External stereo microphone MIC-ST1 – for recording real sound with impact to go with premium-quality images and Full HD movie

・ Remote release RR-90

*1: Fujifilm research as of August 2014. Compared with other compact zoom digital cameras, being 500g or lighter in weight.

*2: "X-Trans" is a trademark or registered trademark of FUJIFILM Corporation.

*3: Approximate number of frames / period that can be taken with a fully-charged battery based on CIPA standard.

*4: Market leading viewfinder magnification ratio. Approx. 0.65x magnification 50mm (35mm format equivalent)at infinity and diopter set to -1.0 m-1.

*5: Fujifilm research as of August 2014.

*6: Fujifilm research as of August 2014. Compared with other digital cameras equipped with 2/3-inch sensor or larger, based on CIPA standards, and conducted in High Performance mode.

*7: Quick Start and High Performance mode.

*8: 35mm format equivalent.

*9: CIPA standard.

*10: Aperture and shutter speed can be changed during shooting. Only shutter speeds faster than the set frame rate can be set.

*11: Maximum multiple image transfer is 30 photos or 2GB.

*12: Wi-Fi® is a registered trademark of the Wi-Fi Alliance.

*13: This function requires installation of the free application software FUJIFILM PC AutoSave in your personal computer.