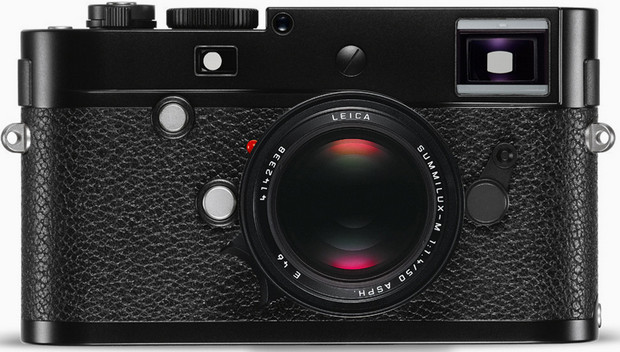 Leica has invited stinking rich photographers to splash out a half ton of cash in the direction of their new Leica M-P digital rangefinder camera, with the new camera being just about identical to the Leica M apart from the lack of a red dot.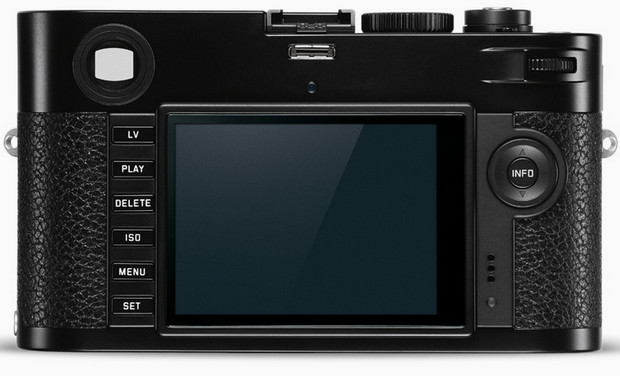 Yep, in a case of truly pointlessly marketing, the 'P' in the product name supposedly indicates the "particularly discreet and enduring design concept with which the Leica M-P joins the line of Leica M-Cameras."
In normal-person-speak, this means that red Leica logo has been replaced by a "discreetly classical" Leica script, making it "noticeably unnoticeable."
Existing Leica M owners could, of course, just stick a bit of tape over the red dot.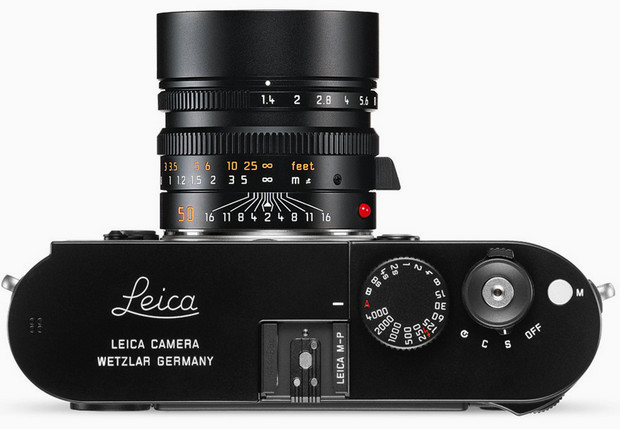 So what does the eye wateringly large sum of $7,949.95 get you?
For that near-fortune, you can take home a full-frame, 24-megapixel camera body with a 2GB buffer (upgraded from 1GB on the Leica M), a sapphire glass LCD cover and a frame selection lever with bright-line frames for 28 and 90mm, 35 and 135mm or 50 and 75mm focal lengths.
We've no doubt that it's a wonderful camera, but it's fair to say you really, really don't need to shell out this kind of money to get a hugely capable full frame camera.
Good luck if you can afford it mind.
Here's the full Leica Press Release and spec sheet:
LEICA M-P / THE NEXT GENERATION OF THE LEICA RANGEFINDER CAMERA FOR PROFESSIONAL PHOTOGRAPHERS

Leica Camera AG, Wetzlar, presents a further model in the Leica rangefinder camera segment. Based on the otherwise identical Leica M, the Leica M-P offers all the technical advantages of the Leica M-System and several additional features, for example an enlarged buffer memory. The 'P' in the name of this camera indicates the particularly discreet and enduring design concept with which the Leica M-P joins the line of Leica M-Cameras conceived especially to fulfil the needs of professional photographers.

The buffer memory capacity of the Leica M-P has been increased to 2 GB – twice the size of that of the Leica M. This guarantees that the Leica M-P is immediately ready to shoot in almost all situations. This is a particular advantage when shooting pictures in rapid succession, as the image data needs to be buffered directly after the shutter is released, before writing to the SD memory card. This means that users can now react to events with even greater spontaneity to capture the decisive moment in almost every photographic situation.

In terms of design, the Leica M-P is based on the typical characteristics of the Leica rangefinder system and focuses in particular on robustness and a long product lifespan. The use of an extremely scratch-resistant sapphire crystal cover for its LCD monitor is one example of this. This material is so hard that it can only be worked with special diamond cutting tools and is one of the world's hardest materials. In practical terms, the sapphire glass LCD cover is almost unbreakable and offers resistance to many kinds of wear and stresses, meaning that the camera is ideally equipped for many years of use. Thanks to an anti-reflective coating on both sides of the cover glass, image reviewing is now even better, even in difficult lighting conditions, and allows photographers to assess and check every subject with optimum precision both before and after exposure.

The unobtrusive and minimalistic look of the Leica M-P provides even greater discretion in decisive shooting situations. Many photographers who already use Leica M-Cameras actually tape over the red Leica logo to make their work as unobtrusive as possible. For precisely this reason, this identifying feature has been omitted from the new rangefinder camera. Instead, the top plate of the camera is engraved with a subtle Leica script.

Other new details of the camera include a frame selection lever with which bright-line frames for six different focal lengths can be projected into the viewfinder to simulate subject framing. The corresponding frames are shown in pairs for the focal lengths 28 and 90 mm, 35 and 135 mm or 50 and 75 mm. This avoids the need to change lenses to assess suitable subject framing, offers greater creative freedom and allows photographers to concentrate fully on composing their pictures.

The Leica M-P is available now from authorised Leica dealers in two different versions: a black-paint version and a traditional silver chrome version. The Leica M-P complements the Leica M. Both cameras will be marketed together.

Technical Data LEICA M-P

Name:
LEICA M-P (Typ 240), black paint finish
LEICA M-P (Typ 240), silver chrome finish

Camera type:
Compact digital view- and rangefinder system still and video camera

Lens mount:
Leica M bayonet with additional sensor for 6-bit coding

Lens system:
Leica M lenses, Leica R lenses with optional Leica R-Adapter M

Top Cover:
Milled brass top cover with integrated thumb rest

Material:
All-metal case made of die-cast magnesium; synthetic leather covering. Cap and base plate made of brass

Image Sensor:
LEICA MAX 24 MP CMOS Sensor

Number of effective Pixels:
24 Million Pixels

Sensitivity range:
ISO 200 – ISO 6400, Pull 100 available, Auto ISO

Imaging Platform:
Integrated imaging circuit with Leica Maestro® Image processor

Electronic Viewfinder:
Optional available, can be used for Live View and Play functionality

LCD Monitor:
3" TFT Display with 920.000 Pixels, scratch resistant cover glass made of sapphire glass

Shutter:
Dual type focal plane shutter for classic image exposure and Live view

Shutter Speed:
1/4000s – 60s (in Bulb), 1/180s flash synchronization

Burst rate:
3fps (until buffer of 2 GB is filled)

Self timer:
2s / 12s

Storage Media:
SD / SDHC / SDXC Memory Cards

Imaging functions

Image File Format:
DNG™ (RAW data uncompressed or lossless compressed), JPEG

File Size:
DNG approx. 20 Mbyte – approx. 30 Mbyte (compressed)/ 48,2 MByte (uncompressed), JPEG: Resolution and image content dependent

Available JPG Resolutions:
5952px*3976px (24 MP), 4256px*2832px (12 MP)/ 2976px*1984px (6MP) / 1600px*1080px (1,7MP)

Color Spaces:
sRGB / Adobe®RGB

White Balance:
Auto / Daylight / Cloudy / Shadow / Tungsten / Fluorescent warm /Fluorescent cool / Flash / Manual (Greycard) / Kelvin 2000-13100

Other functions:
Film Modes, Saturation, Contrast, Sharpening

Movie recording

Movie Recording:
Single frame video compression (Motion JPG), Quicktime format (mov)

Movie resolution:
1080p, 720p, 640*480 (VGA)

Movie sampling rate:
25 fps, 24 fps, 30 fps (VGA only)

Microphone:
Mono, stereo microphone adapter optional available

Audio recording:
Auto level adjustment, manual level adjustment (available while recording), concert preset

Exposure Control

Exposure Metering:
In classic viewfinder mode: Through the Lens (TTL) metering, center weighted with variable aperture.
In Live View and advanced viewfinder mode: Through the Lens (TTL) metering, center weighted, spot or multifield measuring.
Center-weighted TTL metering for flash exposure with system conformant SCA-3000/2 standard flash units.

Exposure setting:
Manual shutter speed setting with direct dial, A-Mode with direct dial

Exposure Modes:
Automatic shutter speed (A-Mode), Manual Exposure (M-Mode)

Exposure Compensation:
-3 EV to +3 EV, 1/3 f-stops
Exposure Bracketing:
3/5 frames, 0.5 / 1 / 2 / 3 f-stops

Flash exposure Control

Flash exposure metering:
Control with center-weighted TTL pre-flash metering (with SCA-3501/3502 adapter, or SCA-3000 standard flash unit such as Leica SF 24D/Leica SF 58).

Hot shoe:
SCA-3502 compatible hot shoe, with center contact

Flash Synchronization:
Optional triggered at first or second shutter curtain

Flash Synch time:
1/180s

Viewfinder / Focusing

Focusing Methods:
Manual focus with optical rangefinder, Live View, 100% Live View Zoom, Live View focus peaking

Optical Viewfinder:
Large, light bright-line rangefinder with automatic parallax compensation, LED illuminated frame lines.

Optical Viewfinder frame lines:
Framelines size matches image sensor size at 2m focusing distance. Image field selector for manual frame selection

Optical Viewfinder correction:
Eyepiece adjusted to -0,5 dpt. Corrective lenses from -3 to +3 dpt. available (optional)

Optical Viewfinder Magnification:
0,68x

Optical Viewfinder Displays:
In the viewfinder LED symbol for flash status (at bottom). Four-digit seven-segment LED digital display, brightness adapted to ambient conditions, for: Warning in case of exposure correction; display of automatic shutter speed in automatic mode; advisory indicating use of metering memory lock LED exposure monitor with two triangular and one central circular LED with manual exposure setting

Rangefinder:
Split or superimposed image range finder shown as a bright field in the center of the viewfinder image Rangefinder effective metering

Basis:
47.1 mm (mechanical metering basis 69.25 mm x viewfinder magnification 0.68 times)

Others

Power Supply:
Li-ion battery (included), 7.4V, 1800 mAh

Horizon:
Yes

User Profiles:
4 Profiles, exportable

Sensor cleaning:
Dust detection, manual cleaning function

Tripod Thread:
A 1/4 (1/4″) DIN made of stainless steel in base plate

Dimensions:
approx. 139 x 42 x 80 mm (5,5 x 1,7 x 3,1 in.)

Weight:
680 g (23.9 oz)

Operating Temperature:
0°C – 40°C

Menu languages:
English, German, French, Italian, Spanish, Russian, Japanese, Traditional Chinese, Simplified Chinese, Korean

Accessories Included:
Battery, Charger with power cables for EU and USA (different in some export markets), 12V charging cable, Carrying strap, Accessory port cover, Body cap

Software licenses Supplied:
Adobe® Lightroom®

Optional accessories:
Electronic Viewfinder (EVF-2), Multi-functional Handgrip M, Handgrip M, SCA Adapter Set for Multi-functional Handgrip M, Power Adapter for Multi-functional Handgrip M, Finger loop for Multi-functional Handgrip M, Size S / M / L, Leica Microphone Adapter Set, Leica R-Adapter M, Ever-Ready Case M, Li-ion Battery BP-SCL2, Battery charger BC-SCL2