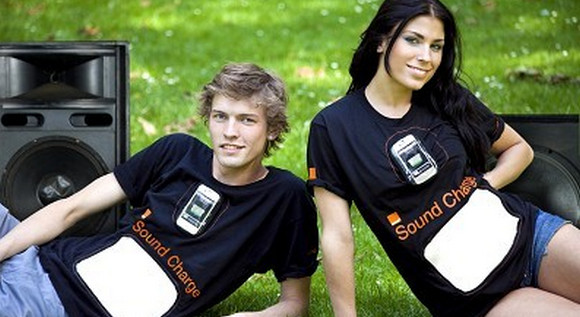 As more corporates become deeply entrenched with the Glastonbury Festival every year, mobile phone network Orange have unveiled an interesting new way to get their branding all over the site, courtesy of innovative – and quite possibly pointless – way for festival bog dwellers to charge up their phones.
T-shirt powered
Their prototype t-shirt claims to 'power mobiles while festival-goers watch bands in action,' with the clothing featuring noise-responsive technology which should – in theory – provide enough juice for a quick top-up.
The technology bit
The strip of Piezoelectric film stuck on the t-shirt acts as a makeshift microphone, absorbing sound pressure waves that are converted via the compression of interlaced quartz crystals into an electrical charge. Or something.
At sound levels of around 80dB, the Orange Sound Charge will apparently generate up to 6 watt hours (W/h) of power over the weekend – enough to charge two standard mobile phones or one smartphone.
Synergetically yours
Desperately trying to extract a synergetic, cool and edgy relationship between the bands and themselves, Orange have said that they will be conducting live testing of the strange looking t-shirts on site at the festival to see which acts are (ahem) the "best to charge to" around the Spirit of 71 stage.
The Spirit of 71 stage will feature possibly the oldest collection of artists on the bill.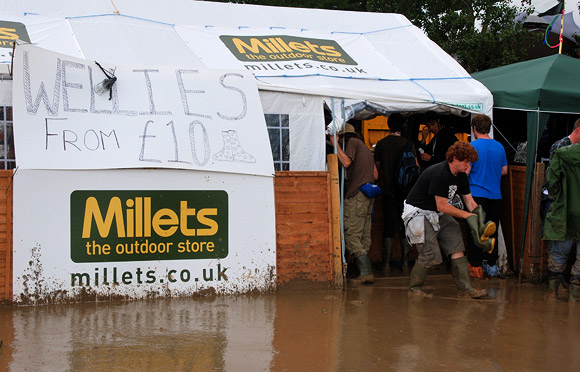 [Probably more useful, rubber-based technology on offer at a previous Glastonbury]
Happy to jump on board the Opportunistic Promotion Express, Tony Andrews, co-producer of the Spirit of 71, commented: "Sound vibrations, particularly bass frequencies, will create enough shaking to produce electricity from a material as simple as piezoelectric film.
"It looks like it could provide a real solution to mobile charging and I'm interested to see how the Orange Sound Charge performs in a live testing environment such as Glastonbury."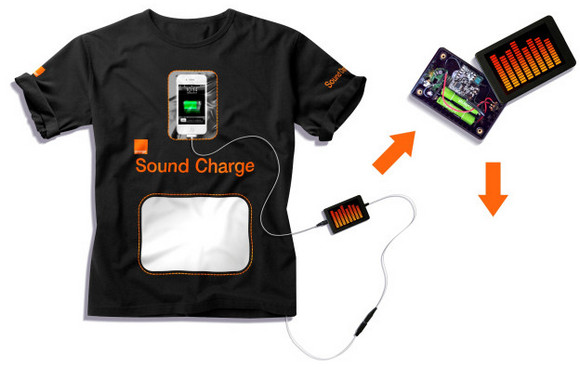 PR-tastic
We suspect the energy generated will be considerably less than the PR buzz that the company hopes to create from people walking around in Orange branded t-shirts – and if they really wanted to put the technology to the test, they'd be better off directing folks in the direction of a drum and bass tent.
Andrew Pearcey, head of sponsorship at Orange UK, was keen to make it all sound scientific: "In a vibrant festival environment such as Glastonbury, sound is such an obvious medium that it seemed like a natural fit to use it in the development of this year's prototype."
Perhaps getting a little carried away, he continued:
Orange's commitment and ethos around innovation is as strong as ever and we envisage that this pioneering technology could really change the face of mobile charging in environments where eco charging solutions need to be found. It could even influence trends in fashion, with designers looking to integrate this passive charging solution into clothing.
[Orange]