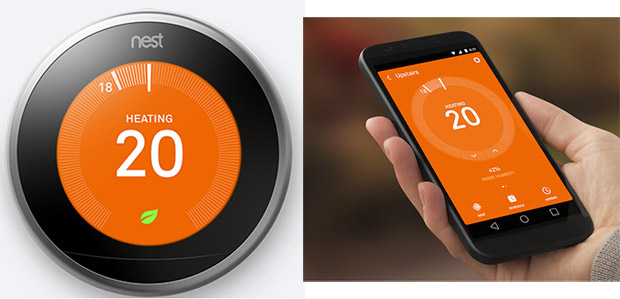 Alphabet (the rejigged, rebranded Google) has announced that its third-gen Nest smart thermostat is now available for purchase in the UK, at a retail price of £249.
This latest update sees the self-programming device looking even sleeker than before, with a larger and brighter high-resolution screen boasting 229 pixels per inch – 25 per cent up on the current generation – with new graphics to communicate information like time and temperature across a room.
A nifty new software feature called Farsight displays temperature and time when movement is sensed across a room, while an Auto-Away sensor ensures energy savings when it knows no one is home.
The new thermostat can also be used to control hot water tanks in addition to central heating, with users able to adjust or boost hot water from their smartphone.
Fully on message with its Internet Of Things status, the thermostat interconnects with other Nest products like the Nest Protect CO2 monitor and the Nest Cam, so if Nest Protect sounds an emergency alarm for smoke or carbon monoxide, messages will appear on the thermostat's display as well as on your smartphone.