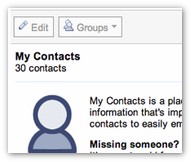 If you've got a mighty big list of names stored in Google Contacts and it's become a bit of an unruly, sprawling mess with loads of  duplicate entries, there's a one-click solution available.
Google have now added a single button that finds all your duplicate contacts and offers to merge them instantly.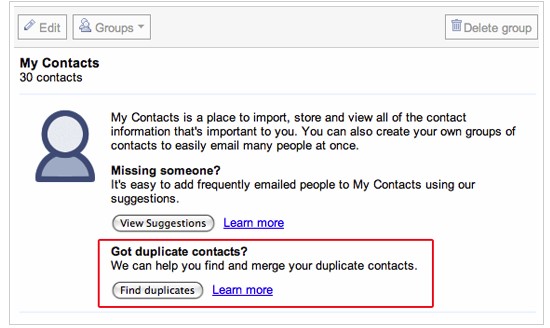 To get rid of those pesky duplicates, click the "Find duplicates" button in the contact manager, cast a watchful eye over the merge suggestions and uncheck any suggestions you don't want merged and then hit the "Merge" button. Bosh! Problem sorted!
Google also offer the following advice to mobile users:
If you've been considering getting all your contacts into Gmail or syncing your Gmail contacts to your phone, now's the time to do it. As we've written about previously, you can sync your contacts to a wide variety of devices (including Android, iPhone, Blackberry, SyncML, etc). So if you were dreading spending hours getting your contacts in order, now you can do it with a couple clicks.