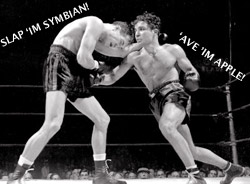 On our sister forum, urban75, a spat broke out between posters, with one insisting that, "If you want any apps, the iPhone is the best bet."
While we'll be the first to agree that the iPhone is probably the best bet for gamers, it was argued that when it comes to everyday, useful apps, several platforms offer equally good ranges of applications, with some having strengths over the iPhone's offerings.
The argument heated up, with one Symbian user throwing down the gauntlet,  inviting iPhone users to post up their regularly used apps, convinced he could show that similar apps are available on his chosen platform.
The first to reply posted up the following list of their regularly used iPhone apps:
peggle
trainline
ocado
remote
scicallite
echofon (twitter)
facebook
flixster (cinema listings)
darkslide (for flickr)
flightcontrol
last.fm
spotify
scramble
shazam
solitaire
urbanspoon
tube status
idaft
skynews
IM+
ebay
fling
The Symbian user was quick to counter, producing this list of Symbian equivalents to the iPhone's offerings, along with his comments:
peggle peggle for symbian
trainline – I simply use bookmark to national rail mobile site on opera mini
ocado – can't find this one, but presumably you can just use their mobile website
remote – Ir remote for symbian
scicallite – loads of these, here's one for symbian
echofon (twitter) – gravity for symbian
facebook – in ovi store
flixster (cinema listings) – I'm sure there are various apps but I know you can do this on google mobile
darkslide (for flickr) – iFlickr for Symbian
flightcontrol – game (I'll concede iphone is best for games at present)
last.fm – mobbler
spotify – spotify for symbian
scramble – again, a game
shazam – shazam for symbian
solitaire – a game again but yes
urbanspoon – exists for symbian too
tube status – exists because I use it – here's an earlier version from 6 years ago
idaft – idaft fro symbian
skynews – yes exists for symbian
IM+ – yes for symbian
ebay – just bookmark the ebay mobile site, or ebay client has existed for yonks on Nokias
fling – another game
We doubt if that'll be the end of the discussion, but let's hear your opinion.
Are all the best apps really on the iPhone?