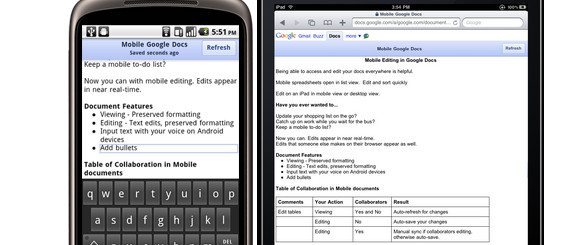 It's been a long time coming, but Google has finally announced that it is adding the ability to edit Google Docs files on Android and iOS mobile devices.
Editing has arrived
Until now, it's been a right royal pain in the googlies trying to edit Google Docs files on the move, but the update lets users click an edit button to switch to the the new mobile documents editor.
If you're working with other people on the document, changes you make on your Android phone, iPhone or iPad should appear almost instantly for your work chums, and you'll be able to see their updates in real time (ish) too.
Here's how Google big up the new edit feature:
You can work on that important memo…while on the bus or train to work.
If you're behind on a group proposal, but really want to make it to the ball game tonight, your whole team can work on it from the bleacher seats.
You can take minute-by-minute notes at a concert so you'll always remember the setlist. And your friends can jealously follow in real-time at home.
The service will be available to Android 2.2 and iOS 3 (and above) users and will be rolled out in the next few days.