Apple's iPhone may well have ten zillion apps and a bulging App Store that makes the rest look like 1970s corner shops, but they often lag behind when it comes to the dead cool stuff being introduced by Google for the Android platform.
A case in point is the Google Goggles app which was released on the Android platform way back in December last year.
Here's Google's blog posting:
Today, we're excited to announce that Goggles is now a feature of Google Mobile App for iPhone. Google Mobile App already lets you speak your queries, and it can also use your phone's location to give you more relevant search results.

In the new version of Google Mobile App just tap on the camera button to search using Goggles. Goggles will analyze the image and highlight the objects it recognizes — just click on them to find out more.
It won't recognise Tiddles
Google are quick to point out that it the app is still in beta, noting that although it works well for things such as landmarks, logos and products, it's not so good on animals, plants or food.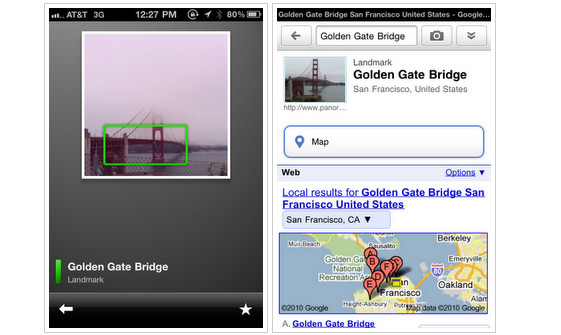 Google Mobile App with Google Goggles is now available in the Apple App Store, so search for "Google Mobile App" and bag yourself the freebie download.