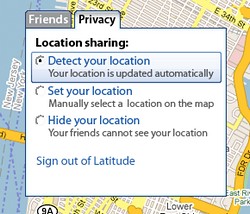 Speaking at the Web 2.0 Expo yesterday, Google's Steve Lee was quick to trumpet the growth of their Latitude service, while giving rivals Foursquare and MyTown a quick sand/face experience.
With Google's location-based service now boasting 3 million active users — with around 8 million signing up since the service launched – their user base is miles ahead of hype-generating rivals MyTown and Foursquare, who can only manage one and two million users respectively.
Still alive
Reflecting on the seeming lack of hype around the product, Lee joked, "Latitude is not dead," adding that the service has grown 30% per month each month this year so far.
Driving the growth of the service is the  Android mobile platform, with over 10% of all Android users using Latitude.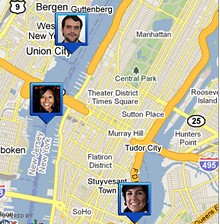 Lack of iPhone support
Lee said that growth was initially slow due to a lack of  iPhone support, while most of Foursquare's and all of MyTown's user base are iPhone ( iPod touch/iPad) totin' folks.
The iPhone's frustrating inability to run third-party services in the background puts the kibosh on a Latitude iPhone app, but with the new iPhone 4.0 OS software offering some multi-tasking, it may become a more attractive prospect.
Check in coming?
Nothing's been confirmed, but it's rumoured that a 'check-in' component coming Latitude's way,  while the next version of the app is set to include location history.
This will let people running Latitude in the background find out interesting information and data about where they've been.
Or, if they've been out for a big night, a list of the bars and clubs they stumbled into.
[Via]