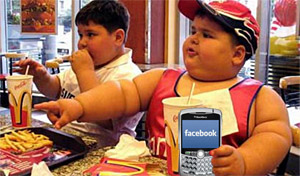 While Google are busy bigging up their Latitude service, Facebook is getting ready to launch location-based status updates for its users, and making it available  to opportunistic marketers like (spit!) McDonald's.
The updated Facebook service will let users post their location within a status update, and McDonald's is building an app with Facebook allowing users to check in at restaurants and have a featured product appear in the post, such as an Sausage and Egg McMuffin.
McDefriending
The prospect of McDonalds spam appearing in status updates could result in some fairly speedy defriending at our end, but it seems other companies are set to scramble on board and produce their own location-aware Facebook apps.
Brands scramble onboard
Facebook's new feature pitches them against other location-based social networks such as Foursquare, Gowalla and MyTown, which are growing fast.
Big corporates like Pepsi, Starbucks, Bravo and MTV have already utilised Foursquare to run promotional campaigns, and with Facebook attracting around 100 million users each day, the attraction to advertisers is obvious.
[Via]