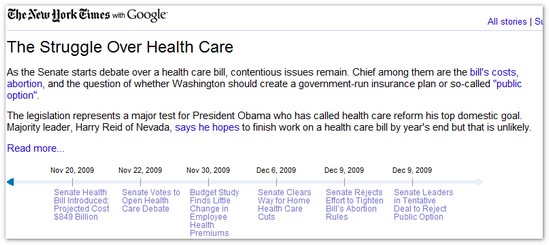 Ever keen to come up with new ways to present newspaper content online, Google has conjured up a new experimental project called, Living News.
It's currently only using content from the New York Times and The Washington Post (who collaborated on the project), but it's an interesting premise, with Living News letting you click on one URL and then get the article along with the developments and follow-ups that stem from it.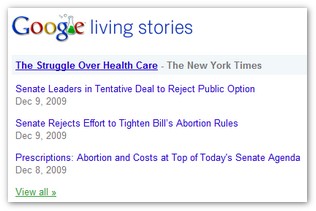 Here's how Google describe the key points of the project:
All in one place
Complete coverage of an on-going story is gathered together and prioritised on one URL. You can now quickly navigate between news articles, opinion pieces and features without long waits for pages to load.

Easy to explore
Each story has an evolving summary of current developments as a well as an interactive timeline of critical events. Stories can be explored by themes, significant participants or multimedia.

Smarter reading
Updates to the story are highlighted each time you come back, and older news is summarized.
"The idea behind Living Stories is to experiment with a different format for presenting news coverage online," commented Google in its blog post.
"News organisations produce a wealth of information that we all value; access to this information should be as great as the online medium allows."
The interface is basic, but we think this could be a really interesting development – the time line provides a useful overview of how a story developed and we could easily see this being picked up elsewhere.
Give it a go and tell us what you think!